(English text below)
Tijdens onze recentste citytrip naar Parijs (begin november 2009) bezochten we drie musea waar we nog nooit waren geweest:
Musée du Moyen Age (Hôtel Cluny), Palais de la Découverte (wetenschapsmuseum) en het  Musée Dapper (over Afrika en Oceanië).
Een impressie in een paar foto's …
Een blik in het, voor mij verrassend mooie en goede Musée du Moyen Age. We waren er naartoe gegaan, omdat er een tijdelijke tentoonstelling was n.a.v de 50ste verjaardag van het stripverhaal Asterix (die tentoonstelling loopt nog tot 3 januari 2010).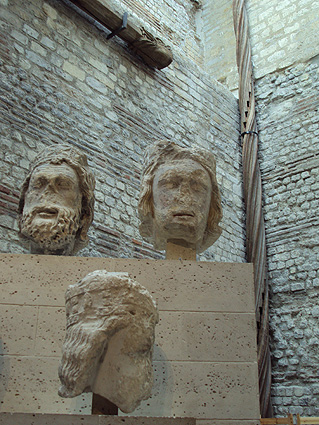 Detail van een wandtapijt: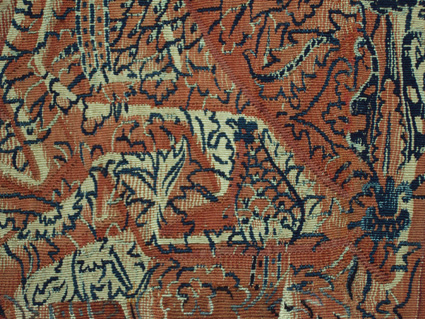 Maar dit vond ik mijn topmuseummoment in dit museum, en achteraf bekeken ook van de drie dagen Parijs. Een halssnoer met kralen in glaspasta. Het snoer situeert zich ergens tussen de 6de en de 7de eeuw. Het werd gevonden in een Frankisch graf (in het Franse departement Aisne) in de 19de eeuw.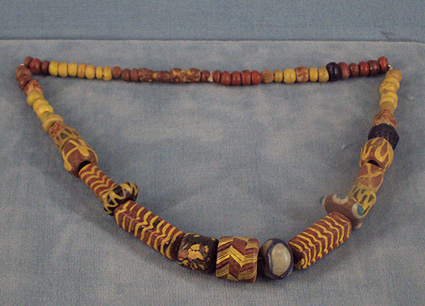 Het gevoel dat ik bij dit snoer kreeg, was zo sterk omdat ik die dag ook een bezoek had gepland aan de winkel van Africouleur, waar ik hoopte een aantal Afrikaanse kralen in glaspasta te kopen.
En inderdaad, op één uur maakte ik een sprong van meer dan tien eeuwen, waar materialen toch zo dicht bij mekaar lagen.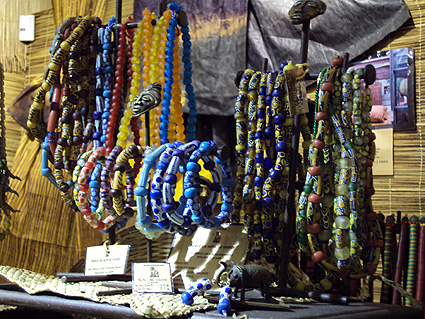 En dit zijn de kralen die ik uiteindelijk kocht: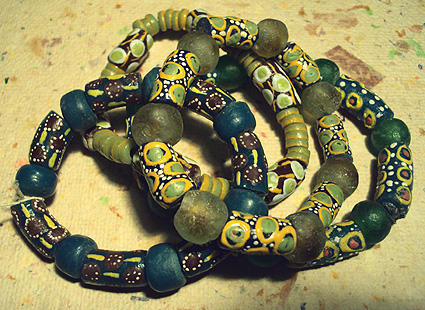 Thuis gekomen, heb ik die glazen kralen eens door het internet gejaagd. Het zijn Krobo kralen uit Ghana. Als ik ze gebruik, zal ik er nog eens over bloggen. Ik geef hier reeds een eerste site mee, waar veel info en foto's te vinden zijn over het productieproces van poederglaskralen en kralen van gerecycleerd glas: Eshopafrica.
Gezien mijn zoektocht naar Afrikaanse inspiratie, had ik Africouleur op voorhand gegoogled. En ik was niet ontgoocheld: een vrij kleine winkel volgepropt met Afrikaanse stoffen (basins) in inspirerende kleuren: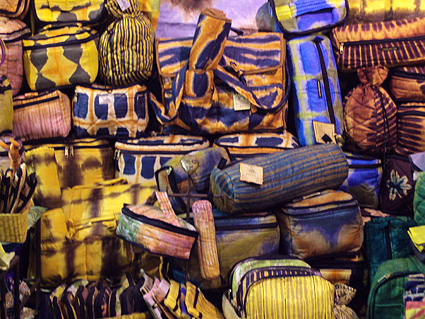 Ook juwelen met glazen kralen en een eigen collectie textiele juwelen: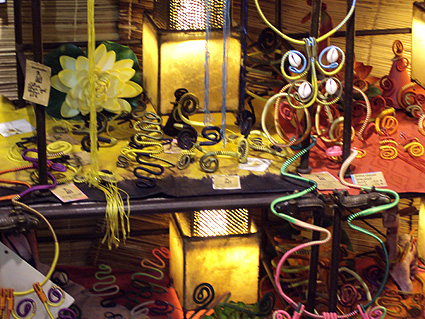 En ik heb natuurlijk  zo'n textiele ring gekocht: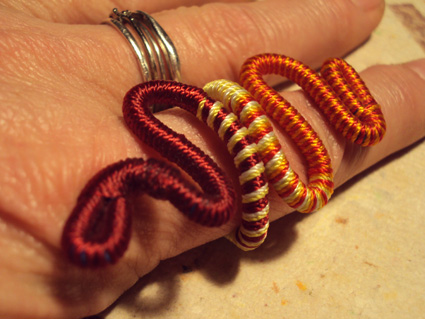 In het Musée Dapper was er een tentoonstelling 'L'art d' être un homme' – over lichaamsversiering voor mannen.  Het is een klein museum. Ik had wel verwacht dat er naast die tijdelijke tentoonstelling ook een permanente collectie zou zijn, maar dat is niet het geval.
Hieronder één van de snoeren van de tentoonstelling: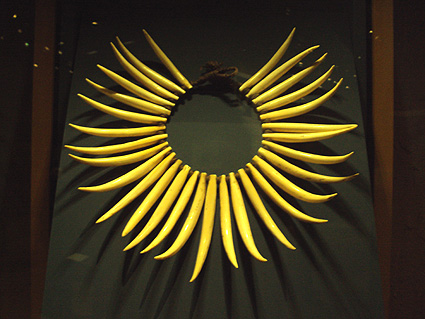 En toen was het afgelopen met foto's maken. Het geklik van mijn toestel had de toezichtster gealarmeerd: verboden foto's te maken.
En dan doe ik zo , om het mooiste snoer van de tentoonstelling in mijn geheugen op te slaan: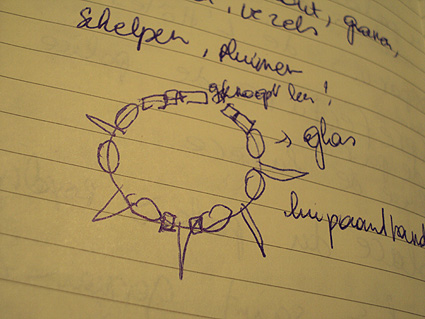 En verder noteerde ik in dit museum alle materialen waar snoeren mee gemaakt waren: hout, granen, vruchten, vezels, schelpen, pluimen, tanden, glas, leer, … inspiratie te over dus!
When we were in Paris, some weeks ago, we visited three musea I had never seen before: the Musée du Moyen Age (Middle Ages), the Palais de la Découverte (sciences) and the Musée Dapper (Africa and Oceania).

As you all know, I'm constantly looking for African inspiration. So I googled beforehand some shops and I visited Africouleur (see the pictures).
It was kind of a shock to cover more than ten centuries in a few kilometres: from the necklace in glaspowderbeads you can see on the second picture (6th-7th century) to the African glass beads in the Africouleur shop. When I'll use the African Krobo beads (Ghana), I will blog more on the way they're made. For those interested, I mention already this site where you can find lots of information and pictures on the process of making powder glass beads and recycled glass beads: Eshopafrica.