(English text below)
Heerlijk weertje dit weekend, fantastisch licht om foto's te maken. Ik heb zoonlief dus weer aan het werk gezet. Maar eerst nog de foto's van vorige week zondag! (die zijn veel minder van kwaliteit, I know, maar toch leuk als herinnering).
Afgelopen  zondag veel volk gezien trouwens, dankjewel!!! Het interieur van Hilde's huis, leende zich uitstekend om mijn werkjes tot hun recht te laten komen: modern, veel licht, …
Vanaf hier kan je alle foto's zien … vanaf een zéér ochtendlijke foto in Gent Sint Pieters, tot het alweer donker werd en de lichtjes op Hilde's oprit het vertrek inluidden.
't Was dus de eerste keer dat ik een paar van mijn African diva's toonden. En ze werden goed onthaald. Ik kreeg zeker een boost om ermee door te gaan. Maar ook de idee om 'afgeleide producten' te maken van de oer-snoeren. Ik denk dat ik de grote snoeren voor mezelf wil houden, maar de nieuwe kleuren- en materialencombinaties wil ik ook uitproberen in draagbare, eventueel verkoopbare snoeren. We zien wel …
Onderstaand snoer heb ik zelf al een paar keer gedragen (en had ik bij die gelegenheden ook kunnen verkopen …). Maar kijk nu eens naar de kleuren van het schilderij  en mijn snoer. Toch niet te geloven, wat een harmonie!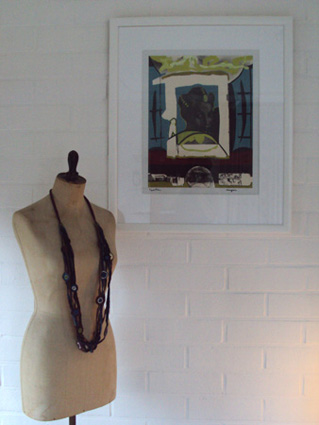 En nog wat sfeerbeelden:
Altijd leuk om te 'etaleren' met spullen van de gastvrouw: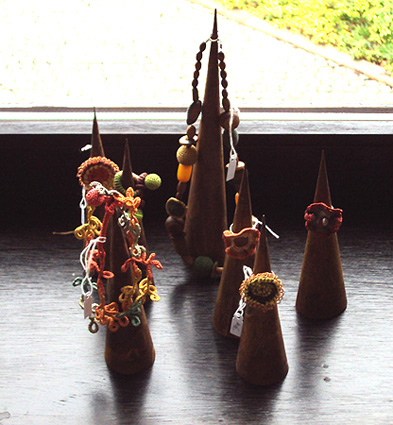 En dit is Hilde, let op het vezelgordijn dat ze nog maakte ter gelegenheid van de open deur: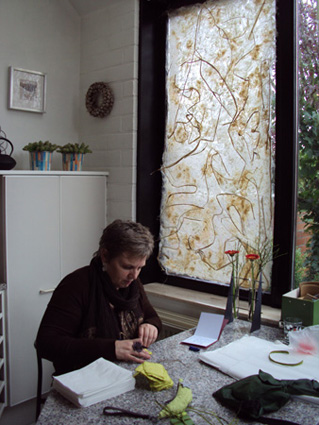 Iets wat me van deze tentoonstelling ook zal bijblijven, zijn de commentaren die door sommigen werden gegeven op mijn franstalig motto. Ik was daar duidelijk in BHV … Zelf begrijp ik die gevoeligheden niet zo goed, maar ze zijn er wel heel nadrukkelijk aanwezig. Soit, het ging zeker om een minderheid.
We're having a really beautiful weekend in Belgium. Great daylight to make pictures. So, I gave me son some more photo-work. But first I want to show you the pictures of last Sunday's house-exhibition.. From here onwards, you can see them all.
Above I want to draw your attention to the painting that matches so well my African Diva's necklace. It was really amazing when I saw the painting! in exactly the samen colours as the necklace I crocheted some month ago. On the last picture you can see Hilde, mind the fibre curtain she made especially for the show.