(English text below)
Op een moment dat onze haiku-dichtende eerste minister in de running is voor de topjob van Europa, kondig ik graag een volgende tentoonstelling aan, die ook een haiku als motto heeft.
In alle stilte
kust ze de kleuren wakker,
de rijzende zon
Deze haiku is van de hand van Leon Scevenels. Ik vind het zelf absoluut een mooie tekst. Hilde, met wie ik samen tentoonstel aanstaande zondag, had dit gedicht gespot tijdens een kunstenparcours in Halle. Het was in haar hoofd blijven hangen en we kozen het uiteindelijk als motto van ons gezamenlijk project.
De dichter heeft zijn goedkeuring verleend aan ons gebruik, en Hilde heeft inmiddels ook al het grote tuinbord in huis waar de tekst opstaat… komen kijken dus:
op zondag 15 november 2009
van 14uur tot 18uur
bij Hilde Debruyn
Astridlaan 8
1500 Halle
Hier kan je lezen wat een haiku is en wat de regels zijn.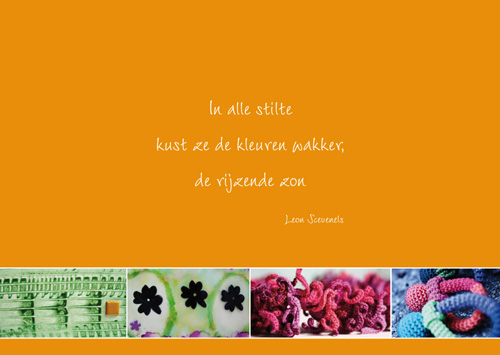 This post is about an expo I will hold together with a friend of mine. We share the passion for colour. She translates this passion with paper, I do the same with threads.
You' welcome!