(English text below)
We zijn terug van Parijs sinds gisterenavond … een blogbericht daarover volgt nog. Maar ik moet hier echt wat systeem in mijn posts steken of het wordt helemaal onoverzichtelijk.
Gek toch, soms moet ik er echt over nadenken waarover ik zou kunnen bloggen. Dezer weken heb ik materiaal 'te veel' ;-). Maar wees gerust, jullie mogen alles zien … zij het in uitgesteld relais.
Dus, even wat discipline en eerst de foto's van de reeks asymmetrische snoeren showen …
Het gebeurt niet vaak dat ik een snoer kan tonen vanaf de basis tot aan iemands nek. Bij dit oranje snoer is dat wel het geval. Kijk maar: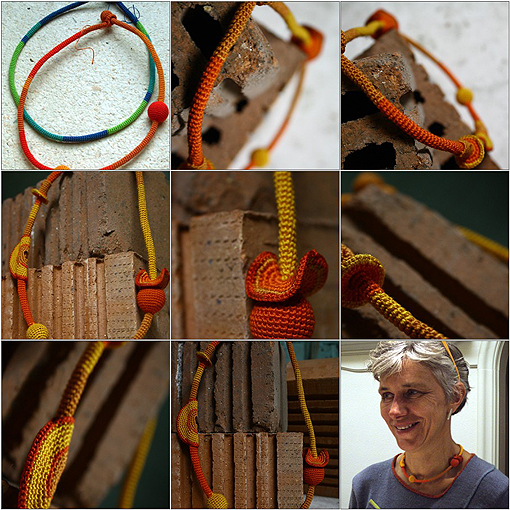 Je kan alle foto's in full size zien vanaf hier (op mijn site).
We're back from Paris since yesterday night. It was great, as always. Will devote a blogpost to it later on.
But now some discipline: I want to finish the photo-series on the asymmetrical collection first.
It does not happen very often, but now I can show you a necklace from the basic form unto how it fits around a lady's neck.
You can see all these pictures of this orange necklace in full size from here onwards.