(English text below)
Sfeer is de naam van een beurs in Gent (inmiddels is ze afgelopen), die vooral draait rond tuin en interieur. Maar er is ook een aparte zaal waar Belgisch design een stek heeft.
Daar was is ik zaterdagavond even. Heb er wat kaartjes meegegrabbeld van jonge Belgische juweelontwerpers wiens werk ik wel mooi vond. Voor wie nieuwsgierig genoeg is, hier zijn een paar websites:
Elisabeth Leenknegt (glasjuwelen), Karin Carmeliet (met hier een daar een draadje textiel, vind ik altijd leuk om te volgen!), Lotte De Mey (geeft ook workshops die mij interessant lijken), Marie-Bénédicte De Schrijver en Cynthia Jacobs.
En ook leuk: er was een stand met snoeischaren waar naar hartelust de efficiëntie van de scharen werd getest. Het lag er vol met platte schijfjes hout … ik heb er een hele zak van meegekregen. Ziet er tof materiaal uit om iets van juwelen op te presenteren . 'k Weet nog niet wat, maar binnenkort doe ik er iets mee.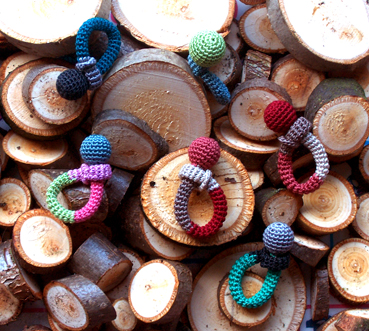 I was on a design fair last Saturday. The theme was garden en interior design, but there was also room for Belgian jewellery design.
For those interested, here are some website sof young Belgian jewellery designers: Elisabeth Leenknegt, Karin Carmeliet, Lotte De Mey, Marie-Bénédicte De Schrijver and Cynthia Jacobs.
There was also someone demonstrating gardenscissors . I liked a lot all those pieces of wood. Took a whole plastic bag of it and will try to make some kind of holders for small jewellery pieces …to be continued 😉