(English text below)
Eén van de allermooiste dingen die zijn gebeurd door te bloggen en workshops te geven, is dat ik er veel wijze vrouwen heb leren door kennen.
Af en toe wandelt er zo eentje door een blogbericht. Zo had ik het onder meer reeds over 'Els' en Els die plannen had.
En nu is het echt zover! Volgend weekend opent Els haar atelier in Sint-Katarina-Lombeek (Ternat): De wereld van Oz. Maanden heeft ze gewerkt in haar garage, zelf workshops gevolgd, is ze op zoek gegaan naar mooie materialen, heeft ze gepland en getwijfeld en knopen doorgehakt, …
Op haar website vind je alle gegevens over het opendeur weekend nu zaterdag en zondag 21 en 22 maart.  En er is ook een agenda van de reeds geplande workshops.
Hier een sfeerbeeld van wat je zal vinden in De wereld van Oz: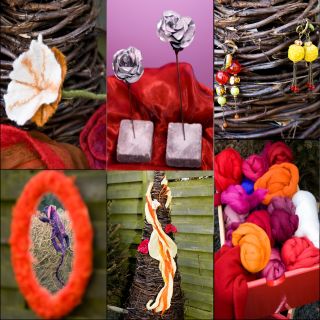 Ik wil ook voor dit project aandacht vragen: een fietstocht van Brussel naar Florence, deze komende zomer, waarvan de opbrengst gaat naar Make a Wish. Op deze website vind je all info. Ook dit is Els en haar gezin!
This blogpost deals about a shop that's going to open this coming weekend. I met this sweet woman when I gave workshops myself. Meeting all these sweet ladies, is one of the finest things that have happened in my life since I started blogging and giving workshops.