(English text below)
'Native tribes' is het thema van deze week voor de 'challenge' van de Europese Etsy-bende. Toch weer meegedaan. Dacht dat er geen tijd zou voor zijn, maar een extra lang weekend (vrijdag was een dagje verlof) zorgde voor extra tijd.
Bij de lancering van het thema dacht ik onmiddellijk aan Noord-Amerikaanse stammen, Indianen, … Stammen uit andere werelddelen kwamen niet bij me op. Misschien komt dat doordat Engelse woorden gebruikt werden? Koraal en turkoois lagen nogal voor de hand, zowel de halfedelsteen zelf als de kleur waar ze voor staan. En ook dat typische zilver (in andere legeringen dat wat wij gewoon zijn)… Is nogal cliché misschien, maar 't is toch wel een mooi snoer geworden 😉
Aan de slag dus! Er zitten echt wel veel verschillende materialen in dit halssnoer. Zijden stoffen, gehaakte zijden schijfjes, Marokkaanse zilveren kralen, een zilveren kraal uit Ethiopië (met dank aan Fleurfatale!!!) , een grote  mooie koraal, een turkoois, bahay zaden (die kleine rode) , salwag zaden (de langwerpige gespikkelde), … Kijk eens op deze site van kralenleverancier Beads and Pieces: allemaal kralen van zaden (uit de Filippijnen), waaronder ook de twee soorten die ik heb gebruikt.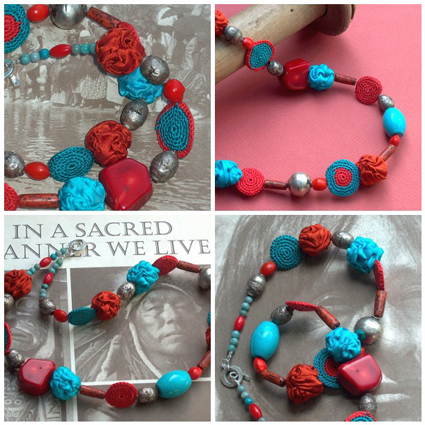 Hier is de blog van Psarakokalo, waarop je alle inzendingen kan zien.
The necklace that's pictured above is my entry for this week's challenge of Etsy' s Europeanstreetteam. The theme was 'native tribes' and it was hosted by Psarokokalo.
Here you can find Psarakokalo's blog, where you can see all the entries.
When she launched this theme, I immediately thought of North Amercian Indians and the colours of coral and turquoise I associate them with. And that's what I used in this necklace. Lots of different materials by teh way: silk fabric, silk thread (the crochet work), a coral bead, a turquoise bead, Moroccan silver beads, an Ethiopian silver bead (with special thanks to Fleur!!), bahay and salwag seeds, …
Have a look on this site of Beads and Pieces: all beads made of seeds and nuts. Great material!