(English text below)
Vandaag was pakjesdag. De ochtend gestart met een bezoekje aan het postkantoor. Een hele lieve Amerikaanse dame wou haar halssnoer vlugger dan met de gewone post, dus met taxipost. Behoorlijk prijzig maar ze wou het zo graag, ze wil het dragen bij haar bezoek aan de Rocky Mountains, …
De dame is kwestie wordt maandag 71 en is aan het reizen op dit moment. Wat een genot om te lezen hoe ze geniet van haar leven! Lees zeker wat citaten uit haar mails hieronder in de Engelse tekst.
En, 'k heb ook mijn Secret Easter Bunny op de post gedaan. Hier is ie… jullie krijgen enkel de pakjes te zien natuurlijk. Meer foto's (van de geheimzinnige inhoud) volgen pas als de bestemmeling het pakje heeft ontvangen… geduld is een mooie deugd nietwaar;-)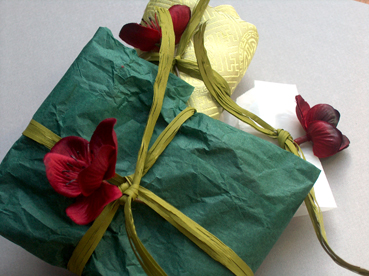 Today was parcels day. I started this morning by going to my local post office to ship a package to the States. A really very sweet American lady asked for having her necklace soon, because she is travelling through Arizona at this time of the year. She wants to wear it when looking at the rocky Mountains … This Monday, she will be 71!
Please join me in reading what she writes on this period in her life. Isn't it wonderful to enjoy life this much at 70. I think it's so inspiring … enjoy life!!
Yes, we are very blessed! We are retired now – after almost 50 years of working and we are really enjoying ourselves and each other. So many of the folks we see – especially at campgrounds where we stay – are so sad and so droopy and so uninterested in anything – we don't have enough hours in the day to do all we want to do!!! We are a little slowed down by aging issues, but if you don't dwell on that and just dwell on what we CAN do it makes an enormous difference. Life is more exciting and awesome now than ever!!!