(English text below)
't Is zover, evalueren of ik mijn doelstellingen heb bereikt. Neen dus, althans niet volledig. Vijf van de zes projecten zijn wel afgewerkt. En, en plus heb ik wel een 'challenge entry' voor Etsy gehaakt. En ben ik stilletjes aan begonnen aan het cadeautje voor mijn Easter Bunny.
Een overzicht:
1. Het vierde African Diva's halssnoer is helemaal klaar. Later meer foto's .
2. De 'bullion stitch' heb ik uitgeprobeerd. Zeker een uur mee bezig geweest, maar nog geen bevredigend resultaat. Moet ik eens verder testen met dikkere haaknaalden en andere draden. Tips zijn welkom!
3. Het lentesnoer is klaar. Ook meer foto's op een andere keer.
4. Het zomersnoer is ook klaar.
5. De speldjes zijn ook klaar, een dertigtal, maar ik heb er nog meer nodig. Ook deze week nog werk aan de winkel dus.
6. Status quo. Met de basissnoeren heb ik niks meer gedaan. Tijd was op. Zal voor later zijn, want ik geef nu voorrang aan de Easter Bunny Swap.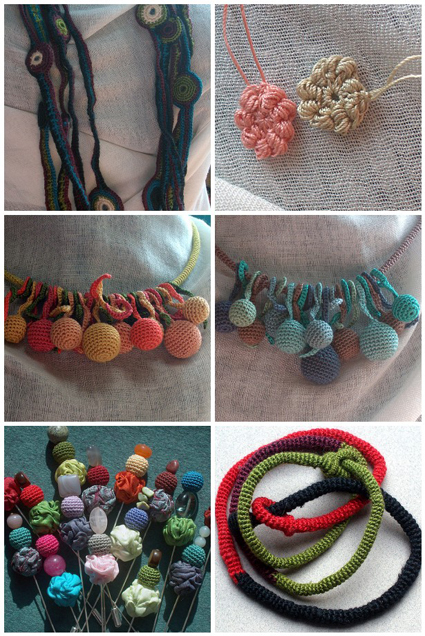 A survey:
1. The fourth African Diva's necklace is ready. Later on I will show more pictures.
2. I tried the 'bullion stitch'; Quite difficult with my small crochet hooks. Should try it again with larger hooks and other yarns I guess. If any of you has tips, they're welcome!
3. The spring necklace is ready.
4. So is the summer necklace. More pictures of those two necklaces, also later on.
5. At least 30 pins finished. And I need more. So, still a lot of work to do!
6. Status quo, thus failure: did nothing with these basic necklaces. I will have to postpone this again, because first I want to finish my item for the Easter Bunny Swap.
p.s. Over the Easter Bunny Swap kan je meer lezen op de blog van Artmind, hier.
p.s. More on the Easter Bunny Swap, here on Artmind's blog.