(English text below)
Of ik m'n eigen deadline haal? Daarvoor moeten jullie geduld oefenen tot morgen 😉 (ik weet het al!).
Nog meer discipline aan de dag gelegd overigens. Eindelijk 'ns wat orde gebracht in mijn blogroll (hier rechts opzij). Ik heb de blogs en sites wat gerangschikt volgens mijn eigen belangstellingssferen: haken, andere textieladepten, juwelen, …
En ik heb meteen ook twee nieuwe blogs bijgevoegd: die van Yoola (Israël) – haar fijn metaalhaakwerk volg ik al langer, maar ze is nu ook met een blog begonnen. En ook een algemene blog over design: Laissezfaire.
De volgende weken zal ik zowel deze blogroll als de links op mijn website zelf, nog verder aanvullen.
En dat is nog niet alles: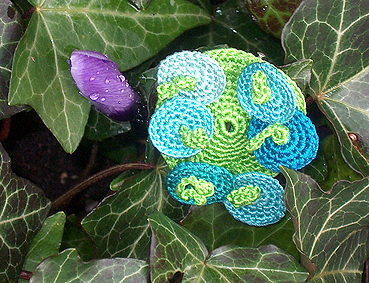 Dit is mijn deelname aan de wekelijkse challenge van het Europeanstreetteam van Etsy. Het thema was 'lente' en de Deense Palepink is gastvrouw. Je kan hier op haar blog alle inzendingen zien.
Well, well, it seems that I'm really quite disciplined this weekend. I also organized at last, all the blogs you could follow in my blogroll. I organized them according to themes that reflect my own interest: crochet, paper, jewellery, …
And I added two more blogs: Yoola from Israël makes very lovely fine jewellery and design with wirecrocheting.  I've been following her work since quite some time, but only recently she started her own blog.
And there is also a general design blog, always inspiring. I found some interesting posts in this blog on contemporary jewellery.
On the picture: my entry for the weekly challenge of Etsy's Europeanstreetteam. Theme was 'spring' and is was hosted by Palepink; Please watch her blog for all the entries. My pin is also here.