(English text below)
Door de band ben ik nogal gedisciplineerd met mijn haakwerk (op andere vlakken is dat heel wat minder ;-)). Waarmee ik bedoel dat ik meestal afwerk waar ik mee bezig ben, uitzonderlijk is er een idee dat ik kost wat kost al wil starten terwijl het vorige nog niet afgewerkt is.
Maar op dit moment ligt dat toch wel even anders. Ai, ai. Ik zal hier dus even mijn eigen vrijetijdscoach spelen. Hierbij een overzichtje van wat er momenteel op mijn werktafel in allerlei doosjes zit. Mijn goeie voornemens met nieuwjaar publiceerde ik hier ook. Met goed gevolg: er is toch al één en ander van verwezenlijkt.
Dus, hierbij daag ik mezelf uit om alles wat hier is beschreven af te werken tegen het einde van dit weekend.  Dus, normaal gezien moet hier maandagavond een mozaïek staan met zes afgewerkte stukken!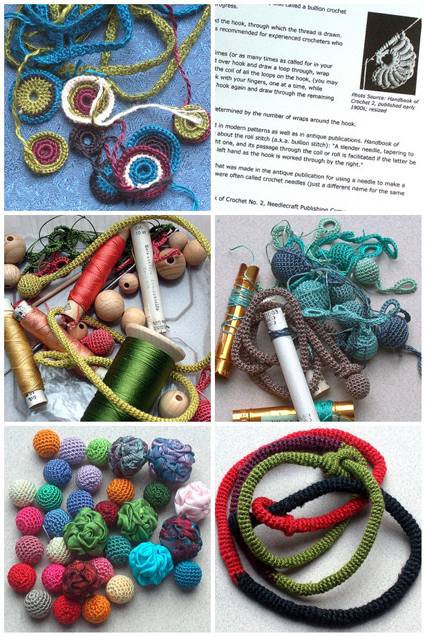 Usually I'm quite disciplined concerning my crochet work. Meaning that  I finish a project before starting another one.
But at this moment, there are a lot of unfinished projects on my working table.
So, this is my personal challenge: I want to finish all what is on these pictures by the end of this coming weekend.
We'll see ;-))
1. details van mijn vierde African Diva's halssnoer / details of my fourth African Diva 's necklace
2. een haaksteek die ik al lang eens wil uitproberen, misschien gebruik ik ze voor de wekelijkse 'challenge' van Etsy / a crochet stitch I've wanted to try out since long. Maybe I'll use it for Etsy's weekly challenge
3. een halssnoer met bolletjes – de lenteversie / a springtime necklace
4. een halssnoer met boletjes – de zomerversie / a summer necklace
5. nog een hoop pins te maken voor het Miat en voor een vriendin / lots of pins to finish for the Miat Museum
6. basissnoeren die nog moeten 'versierd' worden / to be pimped …