De eerste inzending voor de Europeanstreetteam 'challenge' van deze week is binnengelopen. Ik hoop er de volgende dagen nog een aantal te ontvangen, ik stel ze hier allemaal voor.
I received the first entry for this week's Europeanstreetteam's challenge. I hope to receive more of them the coming days. All of them wil be presented to you in this blogpost.

Dit is 'em,
Here it is,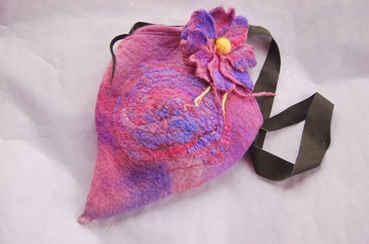 De inzending is van Ingermaaike, een Nederlandse vrouw die in Noorwegen woont. Hier vind je haar blog en hier haar Etsyhop. Warm aanbevolen!
This felt bag is Ingermaaike's work. She's a Dutch woman living in Norway. Here you can read her blog and here you can visit her Etsyshop.
(donderdag 17u30 – Thursday 5.3O pm)
De tweede inzending is van Sigmosaics, uit Portugal. Wat is er typischer aan Portugal dan mozaïek en kleurI
The second entry is from Sigmosaics from Portugal.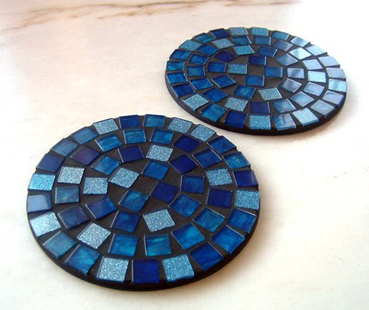 Het Etsy-winkeltje van Sigmosaics vind je hier,. Je vindt er deze onderzetters en nog meer leuks. Haar blog vind je hier.
You can look into her shop here, where you find these coasters and much more.. Click  here to read her blog.
(donderdag 22u10 – Thursday 10.10pm)
Ze blijven komen. Dit boek is van Kreativlink uit Oostenrijk. Dit boek en nog vele andere, vind je hier in haar Etsyshop. Verhalen over wat ze nog allemaal doet vind je hier in haar blog.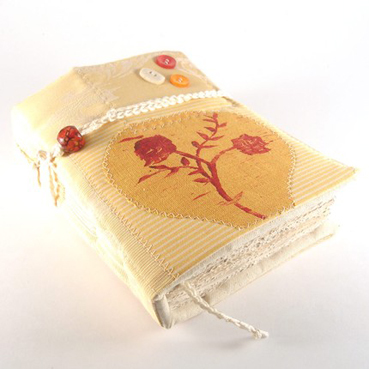 The third entry is Kreativlink's from Austria. You can find this journal, and many more, in her shop. And of course, she also has a blog on her artistic life, you can read it here.
(toegevoegd vrijdag 18u – added Friday 6 pm)
Ik kreeg in de loop van deze namiddag nog een paar inzendingen.
Deze paarse vilten sjaal is van JaneBoFelt uit Moskou. Ga maar eens in haar Etsyshop neuzen, je vindt em hier.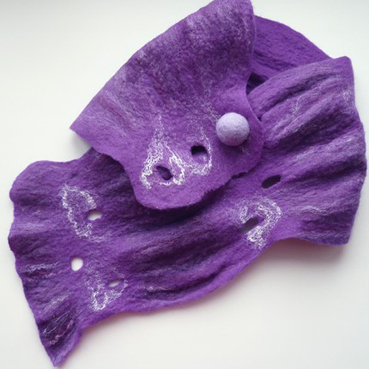 The above purple felt scarf was made for this challenge by JaneBoFelt from Moscow. Her Etsyshop is here.
And I got another two demands to participate.
One from Binkaminka and one from ExoticFlavour. I think they are a bit outside the 'rules' of the challenge. I have to admit that I myself am still learning the 'rules' 😉
It's the purpose to make something new for the challenge; which was not possible for Binkaminka as she only entered the team this week. But I would like to show you what could have been her entry (it was already in her shop before):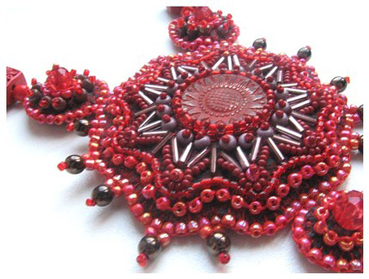 And then there is ExoticFlavour's entry. She wrote to me she had a bit of a problem understanding the 'ton sur ton' theme. But please watch her shop and her entry. I'm so sorry, but I don't think this answers this week's theme. But I am happy to show what she created: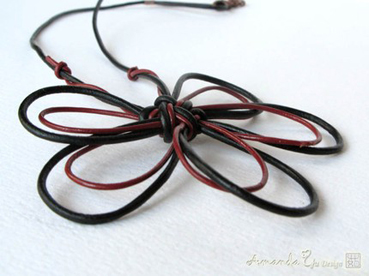 Hierboven de inzendingen van Binkaminka en ExoticFlavour. Ze vallen, denk ik, een beetje buiten de 'challenge' van deze week – wat ze me ook lieten weten. Het zou toch wel de bedoeling zijn iets nieuws te creëren, voor Binkaminka was dat niet mogelijk (ze is pas nieuw sinds deze week). Maar ik toon graag wat een inzending had kunnen zijn (dit snoer zat reeds eerder in haar shop).
ExoticFlavour had wat moeite met het thema. Het is niet 'ton sur ton'. Maar geniet van haar creatie van deze week. Hier kan je haar shop bezoeken.
Tot de volgende!
(toegevoegd vrijdag 20u15 – added on Friday 8.10pm)
Recht uit Griekenland: de inzending van Aranwen: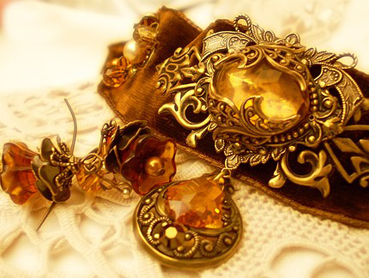 Ze woont in Athene. Haar blog vind je hier. En haar Etsyshop zit hier.
Above the entry of Aranwen, living in Athens/Greece. She has a blog which you can read here. And you find her jewelry in her Etsyshop.
(toegevoegd zaterdag 7u – added on Saturday 7am)
De inzending van de knopenkoningin Kraplap. Ze verzamelt niet alleen knopen, ze maakt er ook vanalles mee. Vaak interessante artikels over textielgeschiedenis in haar blog. Die kan je hier lezen, haar Etsyhop vind je hier.
The entry of Kraplap, the queen of buttons. She not only collects them, but is also very creative with this material. Have a look at het interesting blog and her Etsyhop.
(toegevoegd zaterdag 13u30 – added on Saturday 1u30pm)
Fleurfatale is hier geen onbekende, ik leerde haar kennen op de workshops die ze bij mij volgde. Ze is verslaafd aan turquoise (en rood), dus geen verrassing dat ze die kleur uitkoos voor de 'ton sur ton' challenge. En bovendien was ze in een enthousiaste bui, ze stuurde twee inzendingen in!
Hier is een halssnoer: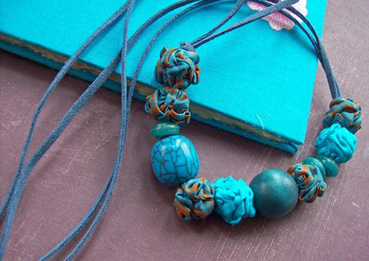 En ook een broche: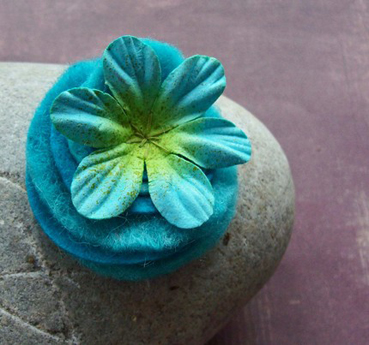 Haar blog vind je hier, haar webwinkel zit hier.
Fleurfatale is not a newbie on this blog. Her favourite colours are turquoise and red. No wonder that she picked one of them for the 'ton sur ton' challenge. She even made two entries!
Here is her weblog and here you find her Etsyhop.
(toegevoegd zondag 21u40 – added on Sunday 9.30 pm)
Van Palepink uit Denemarken – from Palepink of Denmark: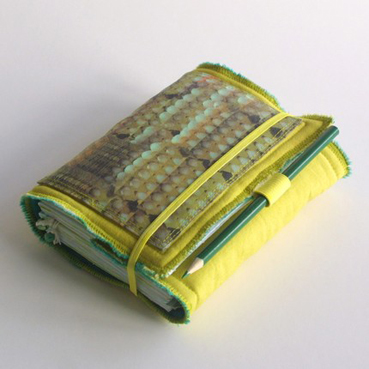 Haar Etsyshop vind je hier, haar blog hier.
Her Etsyhop is here, her blog is here.
(maandag 18u – Monday 6pm)
Will this be the last one???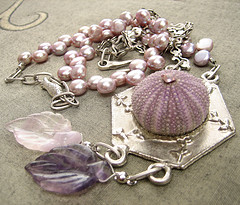 The entry of Star of the East, two Dutch women (mother and daughter) living in Turky::
The shop is here, their blog is here.
De inzending van Star of the East, twee Nederlandse vrouwen (moeder en dochter) die in Turkijke wonen.
De shop vind je hier, hun blog is hier te lezen.
(18u50 – 6.50 pm)
Toch nog eentje: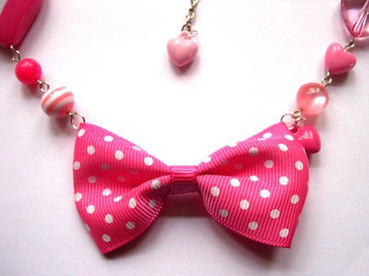 Entry from the Belgian Dinafragola. Her Etsyhop is here.
En op de valreep: CreationsbyEve (Griekenland)
(sorry, foto lukt niet – ik probeer later nog eens)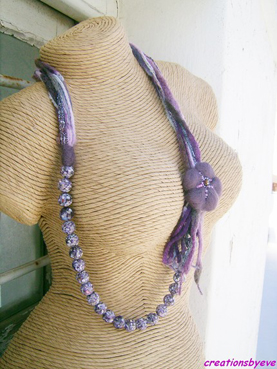 Hier is haar/her shop.