Dit zijn de laatste snoeren van dit jaar. Als ik terugblik ben ik behoorlijk productief geweest. Het blijft een heerlijke passie!
Tijdens de eindejaarsbeurzen werd me meer dan eens naar een set gevraagd. Het ging dan vooral om een snoer met zijden stoffen kralen waarbij dan naar oorbellen werd gezocht in dezelfde stof. Ik had niet echt dergelijke combinaties gemaakt, maar het lukte toch om mooi passende duo's te vinden in mijn voorraad.
Om de balans tussen mijn gehaakte en mijn stoffen juwelen weer in evenwicht te brengen, heb ik de laatste dagen weer gehaakt. Twee setjes dan nog wel (en er zijn er nog op komst).
Al sinds ik die oranje/petroleumblauwe combinaties haakte (zie mijn bericht van 9 april 2008), wou ik al een reeks losstaande snoeren haken in dezelfde stijl.
Hier zijn ze, telkens met een bijpassende ring. Die ringen worden overigens een veslaving, ik kan er niet genoeg van krijgen telkens andere kleuren te combineren.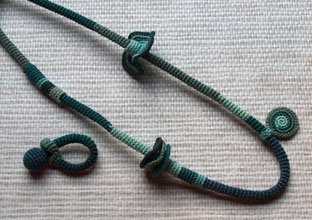 Meer foto's vanaf hier.
These are my last necklaces of this year.
During the previous holiday fairs, some people asked me for a set. More particulary they asked for earrings matching with one of my silk fabricbeads necklaces. Although I did not design sets at first (I'm not really into sets myself), we always found good combinations.
So, to finish this quite productive year I've crocheted two sets. Since I crocheted the orange/petroleumblue combination (see my post of April 9th 2008), I've been waiting for some time to make some separate necklaces in this same style.
Well, here there are two of them (more of them to come).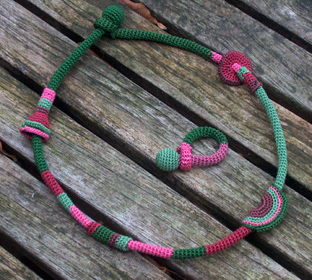 More pictures from here onwards.