'k Vertelde reeds dat ik nog eens aan het breien was geslaan. Vroeger nog ontzettend veel gebreid, zelfs voor een winkel (met de sjieke garens van Anny Blatt). Maar na de vele babytruitjes is het getik van de naalden hier stilgevallen.
Dus eens gaan snuisteren in mijn oude voorraden (netjes op kleur gesorteerd in kartonnen dozen) en er ��n en ander uitgevist: min of meer bij mekaar passende kleuren in totaal verschillende kwaliteiten.
Van Dominque(knitting – cf blogroll) had ik eens gebreide slingertjes gezien die zij droeg als sjaaltje/juweel. Dat vond ik wel leuk en gaf me een idee voor een sjaal. De bedoeling van het breien was ook iets te doen te hebben voor TV. Bij mijn fijne haakwerk lukt dat niet echt, vandaar. Het moest dus iets poepsimpel zijn, waar je niet hoeft te tellen of zo.
De sjaal is nu klaar. Duurde langer dan ik had ingeschat. Maar hij moest pers� af zijn voor kerst. Toen ik op Sint Maarten bij mijn schoonfamilie was (in Aalst, waar ik vandaan kom, is het niet Sint Niklaas die de cadeautjes brengt maar wel Sint Maarten en die komt op 11 november) hadden ze nogal plezier in mijn gebreide 'worstjes' … gedaan met (glim)lachen dus: op kerst mogen ze het resultaat zien.
Vol�, hier is ie: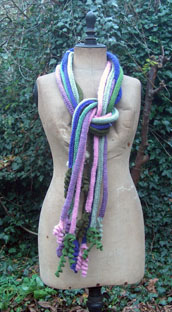 Ik heb hem lekker lang gemaakt, zo kan je hem ook op verschillende manieren knopen.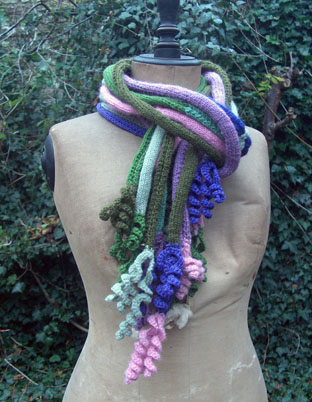 En natuurlijk moest er wat haakwerk aan te pas komen. Aangezien ik mijn ene handelsmerk (zijde) hier niet heb gebruikt, moet het tweede (haakwerk) er toch inzitten.
It had been a long time ago, but some weeks back I started knitting again. Did not buy new material, but went searching in my old stash. Some of the yarn I used must be 20 years or older.
I saw this kind of knitted ribbon with Dominque(knitting – cf blogroll). And it gave me an idea of making a scarf with leftovers. Of course I added some crochetwork. After all I have to be faithful to my trademark 😉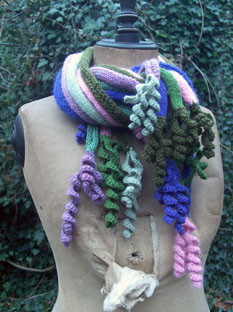 I consider to continue knitting, it 's nice to have something at hand when watching tv with my kids (my fine crochet work is not really fit for such occasions).
Fijne warme kerstdagen iedereen!
A very merry warm christmas everybody!