De details van deze snoeren kregen jullie eerder al te zien. Vandaag: Full Monty!
Dit zijn nu echt snoeren waarbij de inspiratie uit het materiaal zelf komt. Ik heb inmiddels toch al een behoorlijke voorraad zijden draden en stoffen. En 't is leuk om daarmee te spelen. Blijkt dat ik bij dergelijke 'uitbarstingen' toch altijd naar ton sur ton ga. Bij mijn gewone haakwerk is het net andersom, dan combineer ik juist altijd verschillende kleuren. Iets in mij zegt dat zowel verschillende materialen combineren en dan ook nog in verschillende kleuren t� wordt …
Hier is de groene versie: halflang en met slotje. Dus ook als choker te dragen door het twee keer rond je nek te zwieren.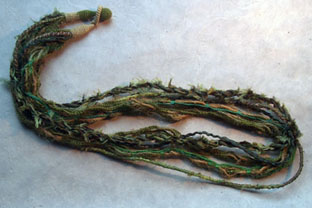 Om een idee te krijgen van al de draadjes en wat ik er mee uitgespookt heb: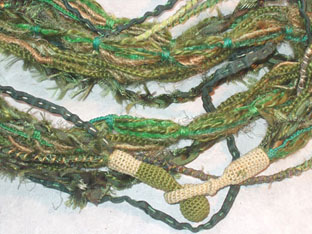 En de turkoise/donderrode versie: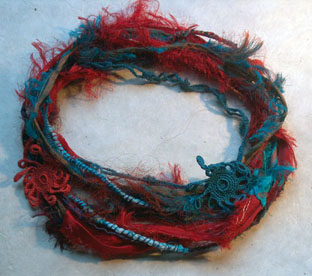 Bij deze laatste heb ik er ook nog twee gehaakte bloemen bijgemaakt. Het was wat paswerk, maar ze staan op de juiste plaats 😉 Als je het snoer kort draagt zitten de bloemen vooraan.
Meer foto's vanaf hier.
I showed you some details of these necklaces some posts ago. Today: Full Monty!
These are typical examples of my work where it's the material that inspires me.
While making these necklaces I realized that either I use 'ton sur ton' threads in different materials or I use one material in different colours. Something in me says that it would be over the top when using everyting in one piece.
On the pictures you see the two necklaces. You can wear them halflong, or as a choker.
On the turquoise/red one I added some chrocheted flowers. When wearing the necklace as a choker the flowers are in the front.
More pictures from here onwards.
p.s. voor de Gentenaars: nog op zoek naar een cadeautje? Wat dacht je van een Music for Life-dekentje? het glazen huis van Studio Brussel staat op de Zuid. Zo'n dekentje kost 10 euro.
En nog veel leuks �n handgemaakt: nog vandaag en morgen een beurs in de Burgemeester Meirsonstraat 11, Destelbergen. Meer info op de blog van Fleurfatale, hier.