TIC (Tijdschrift voor Industri�le cultuur) is het tijdschrift dat uitgegeven wordt door de VZW VIAT, de Vereniging voor Industri�le Archeologie en Textiel, verbonden aan het MIAT. Deze VZW staat ook in voor de workshops en de museumshop en allicht nog een hoop dingen die het museum springlevend maken.
Deze namiddag was ik in het museum om wat nieuwe spullen te brengen. Niet geheel zonder eigen belang heb ik een nummer van dit driemaandelijks tijdschrift gekocht. Jawel, ook ik heb een ego dat af en toe eens graag gestreeld wordt 😉
Lees hier (pdf-formaat) een artikel over de museumshop uit het nieuwste nummer van TIC.
Je kan er o.a. lezen dat er echte vlasdraad op komst is. Inmiddels is die er al. In twee verschillende diktes (Nm 5/2 en Nm 7/3) en in verschillende kleuren. Ik kocht zelf een bol van het kleur 'aqua' van de dunste soort. Even geprobeerd om er mee te haken (met een 1,25 naald, maar dikker kan ook). Het liep vlot. De vlasdraad is heel soepel (soepeler dan het linnen uit La Droguerie dat ik in huis heb). Alweer een draadje meer in huis om te koesteren.
Toch wel fascinerend dat onze Vlaamse vlasgeschiedenis nog leeft. De draad komt uiteraard uit de bakermat van het vlas:Kortrijk. Dat ie nog ambachtelijk wordt gemaakt moge blijken uit deze staalkaart: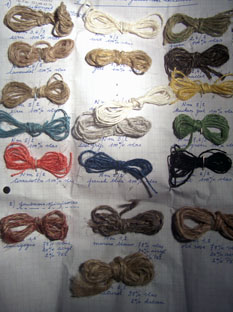 't Is haast schattig hoe de staaltjes op een blaadje papier werden vastgemaakt. En hoe iemand in een zondags geschrift de technische gegevens heeft toegevoegd.
This post is about a magazine that's published by the the textile museum where I often go. In this issue there was also an article on the museumshop (where you can find some items of mine).
They also sell real flax threads, made in Kortrijk. Kortrijk is the womb of our Flemish flax industry since ages. It's so nice that there are still people that make this thread. On the picture you see the samplers of this thread. I tried to crochet with is and it is indeed a very smooth thread. Will certainly use it when I'm in the mood for playing with different materials to make necklaces.