Ik heb net alle mijn nieuwe lange snoeren opgeborgen in het fotoalbum op mijn site.
't Was plezant om te doen. Combineren van kralen, zijden stoffen kralen, haakwerk, … om een snoer te maken. Winkelen in mijn eigen voorraad dus. En ook op Etsy. Heel verleidelijk: ik krijg een idee om te werken met ringen in mijn snoeren, rondneuzen op Etsy , gezellig 's avonds zitten kiezen en kopen en binnen de twee weken heb ik hier een hoop mooi materiaal om mee aan de slag te gaan. Nu heb ik vooral koper en halfedelstenen gebruikt, ik heb ook nog hout liggen (o.a. kokos), benen ringen, vintage plexyglas spullen, vintage koperen ringen, … Nog een lange leuke tijd zoet dus!
Hier zijn er een paar.
Bij dit snoer heb ik keramieken kralen gebruikt. Ze passen allemaal bij mekaar en toch heb ik zo op drie verschillende plaatsen gekocht: bij Zahia, bij Soiebelle en op de markt in Maastricht.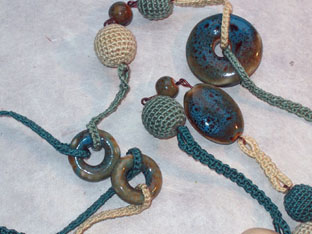 Deze donut in jasper vond ik echt mooi van kleuren. In mijn voorraad naaizijde heb ik kleurtjes gezocht die er bij pasten. Goed gelukt h�?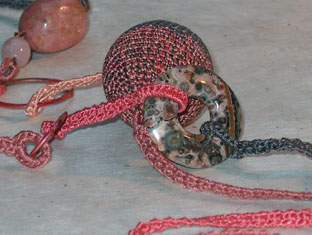 Vanaf hier kan je al die snoeren bekijken.
Tonight I put all my long necklaces in the picture gallery of my site. You can see them from here onwards.
On the pictures above, some details. First a necklace where I used ceramic beads, bought in three different places but matching. The second one is a jasper donut, I used the colours of the stone to select silk threads for crocheting the necklace.