Het blaadjessnoer krijgt nog meer zusjes. Ik heb er nu al vier gemaakt, maar niemand heeft ze al in het echt gezien! Ik breng ze wel mee naar de opendeurdagen bij De Vuurkorf dit weekend (Aalbessenlaan, Wondelgem). Meer info over deze cadeaubeurs hier.
Omdat ik het zelf leuk vind om met kleuren te spelen, zet ik de vier snoeren hier eens op een rijtje (de eerste twee zagen jullie al, de rest is nieuw):
Het eerste met echte herfstkleurtjes: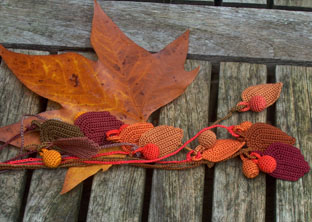 Eentje met helder blauw en groen: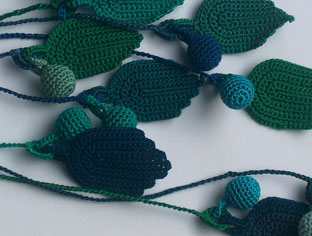 Een paars/grijze variant. Hier heb ik nog eens draadjes gemengd. Drie draden zijden stikzijde (ook oude bobijntjes van G�termann) zijn samen ongeveer even dik als één draad cordonnet. En 't is leuk om ze in verschillende kleursamenstellingen te gebruiken.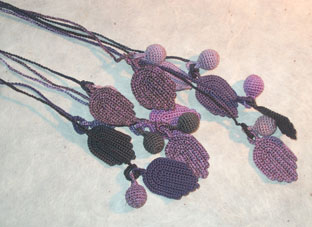 En� het jongste. Deze kleurencombinatie is toevallig tot stand gekomen. Op mijn werktafel lagen ze bij mekaar, allemaal resten van de reeks snoeren met stenen en ringen.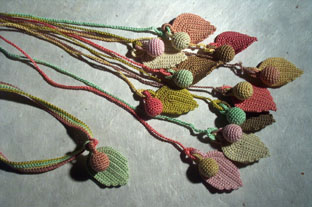 Up to now I've crocheted four of my leaf necklaces. Because I myself like a lot to play with colours, I show them once again in one post. The first two pieces you've seen before. The latter two are new.
In the purple one, I've once again been mixing colours by using three threads of very fine silk sewing thread (also old bobbins of G�termann). Using three of these threads together is about the same width as one thread of cordonnet.
The colour combination in the last picture came by coincidence. The bobbins were together on my table, after having finished some of my long necklaces with rings and stone beads.