't Is aan 't regenen … blogtime, museumtime!
Een fotoverslagje van de eindejaarsbeurs op Sjamma gisteren. Ik heb me geamuseerd. Altijd leuk om mensen terug te zien en over gezamenlijke passies een klapke te doen. We zaten met z'n drie�n te breien in de winkel. En er is weer een plan voor een tentoonstelling bij iemand thuis …
Mijn 'kraam', beetje klein en dus ��n en ander gewoon niet uitgepakt. Mooi spiegeltje gezien? Ik zoek al lang naar een spiegeltje dat ik kan meenemen. Vorige week eentje gevonden in een brocantewinkel in Gent. Ben er heel blij mee.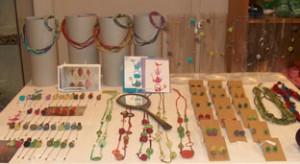 Ik had de supermooie kaartjes van Fleurfatale mee en heb er ook gebruik van gemaakt om mijn etalage te maken. Volgende week neem ik ze ook mee naar de opendeur bij De Vuurkorf. 't Is leuk om mooi papieren materiaal te combineren met mijn werk … gelijkgestemde kleuren (en zielen) doen veel.
Wegens geen tijd meer om doopsuikerzakjes te kopen om mijn speldjes in te verpakken, zelf met karton dat ik in huis heb, wat zitten uitproberen. Dit is het geworden, 'k ben er zelf content van. Het speldje verpak ik eerst in zijdepapier en dan gaat het golfkartonnetje er rond: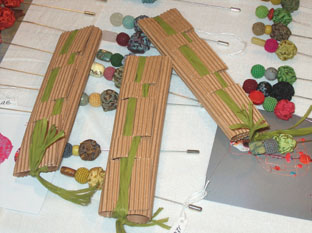 Blogger meets blogger: Atelier Plano op zoek naar bloginspiratie bij de creaties van De Vuurkorf: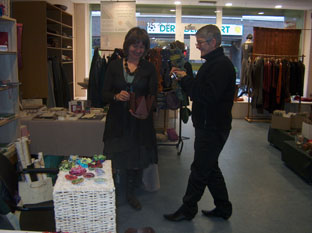 En bij een natte zondag hoort een museumbezoek. Niet echt binnengeweest. Wel het programma opgehaald van de Gentse Museumnacht: nu donderdagavond van 18u tot 01u zijn de Gentse musea open en gratis toegankelijk. Er zijn overal speciale dingen te doen, o.a. La fille d'O in het Miat, kookdemonstraties door BV's in het Design, … Hier lees je meer. En tram 1 (de 'museumlijn' )is die avond ook gratis. Gent, I love you!
The pictures in this post were taken during the holiday fair yesterday in the fair trade shop where I volunteer. You can see my little shop, a package I 'invented' for my pins and two other blogsters that met and show their creations to each other.

This Thursday evening� December 4th the Gent musea are open until 1 am. Here you can read more on the program of this evening.