(English text below)
Het is deze week al vier jaar geleden dat ons moe overleed. Toen we afscheid van haar namen, vertelde ik aan de gasten wat voor een gepassioneerde reizigster zij altijd is geweest.
Ze kwam op plekken  die nu niet meer te bereizen zijn.
Een paar weken geleden zat ik nog eens te snuisteren in haar doosjes met juwelen, ook vaak reis- en andere herinneringen. Vind die wel mooi die oude doosjes.
Eentje uit Lede (waar ze is geboren en opgroeide), eentje uit Lourdes, eentje uit Chicago (waar mijn vader een oom had), ….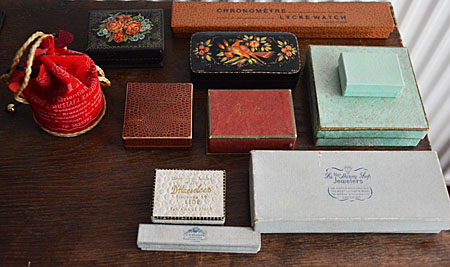 Dit tasje deed me even naar adem happen: van een juwelier uit Aleppo! Misschien een zaak die inmiddels in puin ligt 🙁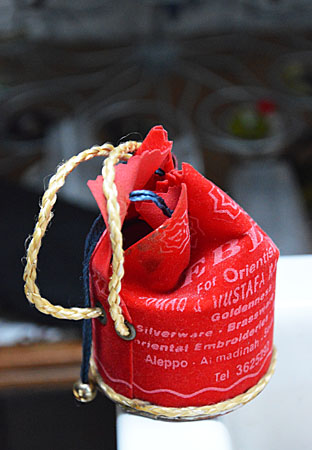 When my mother passed away four years ago, I told the guests of the funeral, what a traveller my mother has always been.
Some weeks ago, I was looking through her jewellery boxes full of travel- and other memories.
Look what I found: a jewellery bag from Aleppo! Probably ruined  now…. 🙁