(English text below)
Edith is één van mijn goeie buren. Als ze aan het opruimen gaat en spulletjes te veel heeft, etaleert ze die op haar vensterbank en kan elk wie dat wil iets mee naar huis nemen.
Vorige week stonden er een paar kandelaars en een étagère voor – denk ik -  cupcakes. En  voor 't eerst nam ik ook iets mee. Het leek mij een tof etalageobject voor mijn juweeltjes.
Ik heb er mijn kleine verzameling handgemaakte ringen op verzameld: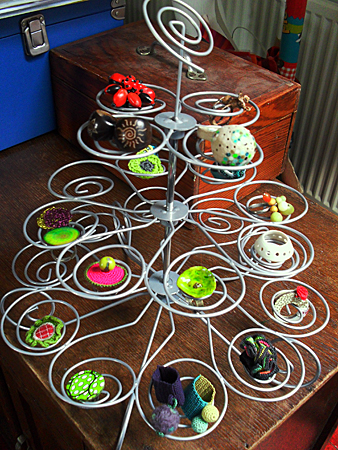 –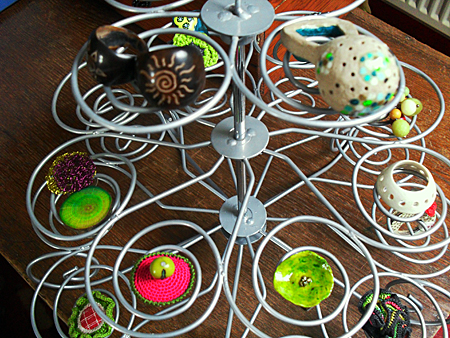 –
En voor wie er meer wil over weten, hier zijn de websites van een paar van de maaksters:
En verder ligt er ook wat eigen werk op, een ring gekocht in Musée du Quai Branly (Parijs) en ringen gekocht in Ecuador en Peru.
Edith is one of my good neighbours. When she's cleaning her house, she puts the things she does not need anymore outside in front of her house. Those who want it, can take it.
Last week I took the above 'thing' and I use it to put my small collection of handmade rings on.
Click on the names in italic to learn more of the makers.