(English text below)
Nog een handtas(je).
Fluweel en een interieurstof met een tekening in fluweel. Ik vermoed dat het fluwelige van dit tasje een soort aantrekkingskracht heeft, want het werd al door veel vrouwenhanden aangeraakt … gewoon om te voelen 😉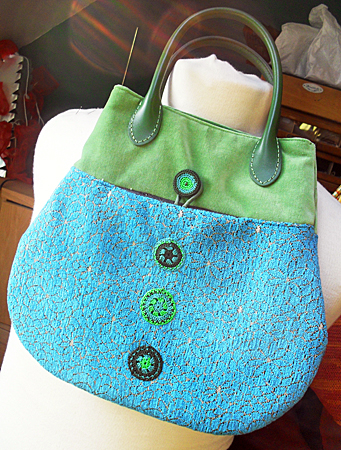 –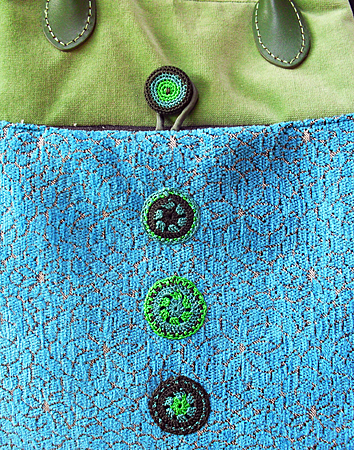 –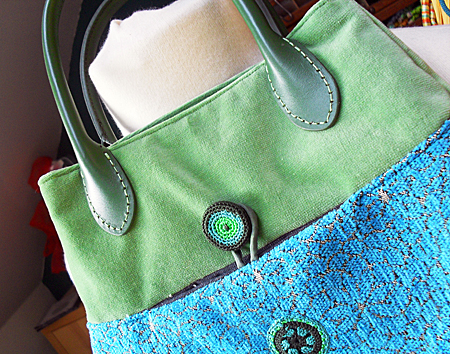 Mijn fijne haakwerk afwisselen met mijn stikmachine was/is leuk. Ik vermoed dat 2013 nog meer haak-en-wat-anders combinaties met zich zal brengen. En wel hierom: na 32 jaar voor dezelfde werkgever te hebben gewerkt, neem ik op 3 januari een fantastische duik in het onbekende: een nieuwe job!
Zeker in de beginfase, zal ik minder tijd hebben om te haken. Deze blog krijgt misschien meer berichten over andere creatievelingen, tentoonstellingen, korte tips, … we zien wel.
Het haken zal, nog meer als vroeger, voor de ultieme ontspanning zorgen. Permanent creatief zijn houdt mij in evenwicht. En die creativiteit mag alle kanten uitgaan!
Another (small) bag in velvet fabrics. I guess this velvet is kind of attractive to touch … cf all the female hands that caressed it when I showed this bag on a fair.
This year was the first time that I started combining my fine crochet work with other techniques. I guess I will continue exploring my creativity in combining crochet with other textile techniques … to be continued!
After having worked for the same employer for 32 years, I start another job this January.  Being creative keeps me in balance and I allow it to go every way it leads me.
We'll see where my crochet passion and my blog will lead me this coming months … I'm curious myself! 😉