(English text below)
Ik ben de voorbije weken veel (te veel?) met haken bezig geweest: in het weekend van  10 en 11 december as ben ik te gast bij Nik Audenaert (klik op haar naam voor haar website) in Veltem-Beisem voor een open deur. Ik heb er echt zin in!
Mijn pols heeft nood aan rust, dat voel ik 🙁
Dus heb ik mijn mand zijden stoffen nog eens bovengehaald en wat oorbellen gemaakt. Het was al lang geleden dat ik nog eens met stoffen aan de slag ging. Maar ik heb er mij mee geamuseerd. Mijn stikmachine weer bovenhalen is een optie voor de (nabije?) toekomst.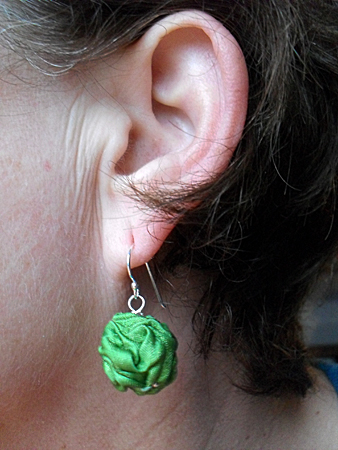 –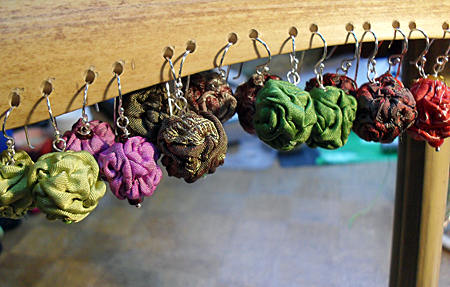 I've been crocheting a lot (too much?) the previous weeks:Â  I'm invited to participate to an open door weekend at Nik Audenaert s' place on December 10th and 11th. I'm really looking forward too it!
But I feel that my wrist needs some rest. So I picked up my silk fabric stash and made some earrings.