(English text below)
Ik hoor soms wat gemor over de beperkte mogelijkheden om ecocheques op te souperen … ik heb er geen moeite mee. Je kan er ook treinbiljetten mee betalen, wat ik graag en gretig doe.
Op stap met de trein dus. Zoals gisteren: dagje Hasselt.
Twee uur en een kwart trein enkel, maar daar maal ik niet om 😉 :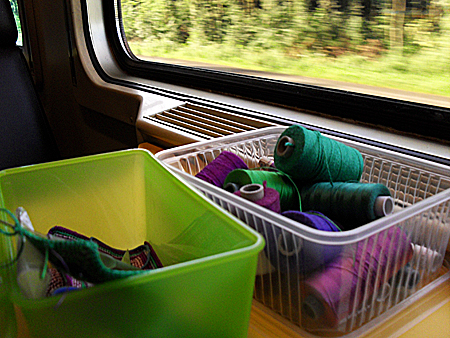 'k Wou twee dingen combineren, een bezoek aan de tentoonstelling 'Prints – in mode-en kostuumgeschiedenis – 1750-2000' in het Hasseltse Modemuseum en een bezoek aan de creatieve markt Handmade in Belgium. Zeer leuke extra:Â  's middags koffie(kletsen) met Mitsy van Artmind.
Op de tentoonstelling 'Prints' mocht er niet gefotografeerd worden. Jammer!! Ik merk dat het zoeken naar wat opvallend en mooi is om een foto te maken, er toch voor zorgt dat ik een tentoonstelling op een intensere manier beleef. Deze keer niet dus. Zelf heb ik er geen inspiratie opgedaan, ik denk dat dat wel het geval zou zijn voor mensen die zelf naaien (kraagjes, nepen, rugstukken, … knappe dingen tussen!!).
Ik heb wel de discipline gehad om de bijgeleverde tentoonstellingsgids te lezen. Toch een interessant stukje textielgeschiedenis.
In de open ruimtes mocht ik wel een foto maken. Ik heb mij uiteraard zo gepositioneerd dat er een jurk uit de tentoonstelling binnen mijn lens viel 😉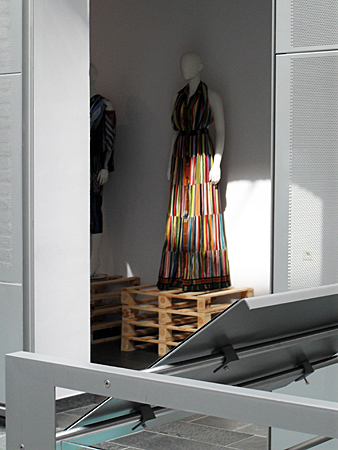 Een foto van de balie van het museum mocht ook: de cataloog van de tentoonstelling én een deel van het werk van Artmind (klik hier voor haar blog) dat er te koop is in de museumshop. Mitsy maakte speciaal voor deze 'Prints'-tentoonstelling aangepaste accessoires. Ook het werk van Karlita (klik hier voor haar blog) is in deze museumshop te koop. Ook zij maakte een reeks juwelen speciaal voor deze tentoonstelling.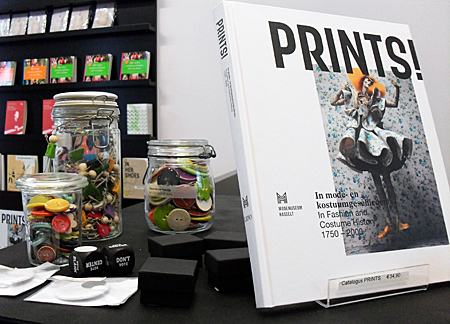 De tentoonstelling loopt nog tot 8 januari 2012.
Binnenkort is er trouwens ook in het Modemuseum een creatieve beurs (met o.a. Artmind) : Hoera Hip Handwerk. Mitsy liet mij al eens voorproeven van de nieuwe juwelenlijn die zij samen met Ana Ruby King maakt, ze zullen te koop zijn op deze markt in het museum op 11 september as.
De Handmade in Belgium-markt vond plaats in een wijs industrieel gebouw vlak in de buurt van het station. Je kan via de website van Made in Belgium nog eens bekijken wie er allemaal stond. Alle deelnemers staan er nog vermeld met hun website.
Ik ben er blij buitengekomen: een paar mensen die me goeiedag kwamen zeggen omdat ze mijn halssnoer herkenden en deze blog volgen of me volgen via Facebook 🙂
This blogpost is about my visit to Hasselt yesterday. I went to see the 'Prints – in fashion and costume history – 1750-2000' in the Hasselt Fashion Museum.
It was a pity that visitors were not allowed to make pictures. I realized that making pictures, looking for details and inspiration, makes that I see an exhibition in a more intense way.

In the museumshop you can a.o. the work of Artmind (click here for her blog) and Karlita (click here for her blog)

Afterwards I went to a craftmarket : Handmade in Belgium.