(English text below)
Nog twee van die gegolfde  colliers . Bij dit ontwerp past de naam 'collier' wel goed. 't Heeft iets van een kraagje.
Deze kleurencombinaties is geheel toevallig ontstaan. Waar mijn chronische  grote rommel al niet goed voor is. Deze rode/beige/groene garens lagen toevallig in mekaars buurt en ik zag ze helemaal zitten: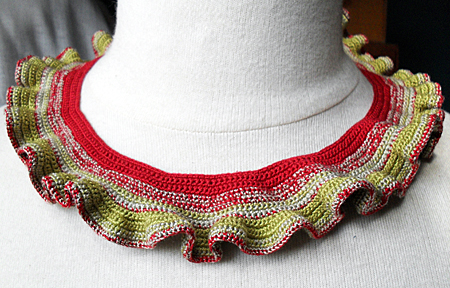 –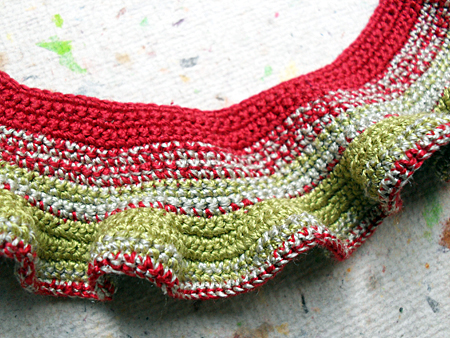 –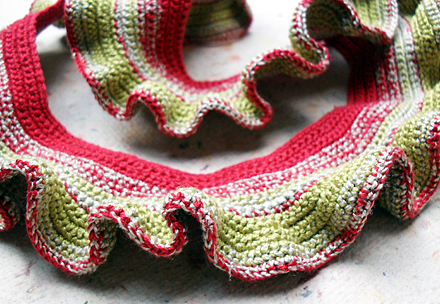 Kleuren van een ander kaliber. Volop fiesta! (en er is nog een ander snoer op komst in deze kleuren).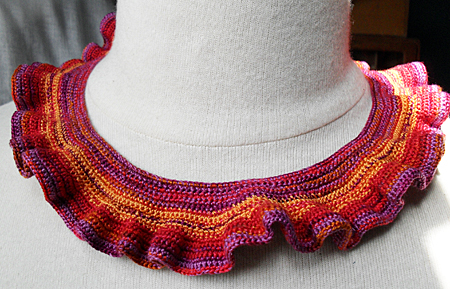 –
–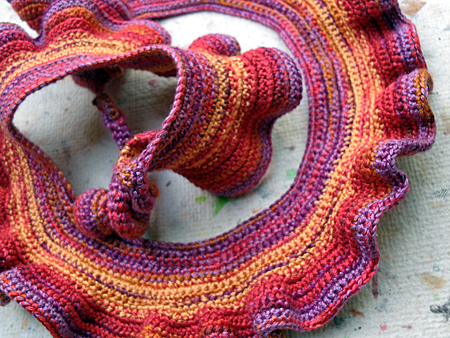 Deze leent zich zeker ook voor de' wilde' versie:
More ruffled necklaces.
The colour combo of the first one was a happy coincidence. The green/beige/red yarns just were in each others neigbourhood in the middle of my disordered workplace.
The second  one  has a colour combo of a totally different atmoshpere. Don't they invite you to a big fiesta! That's why I added a picture that shows how you can wear the necklace in a wilder way.
En hier is de uitsmijter! Vandaag op Facebook gelezen, op het profiel van iemand van wie ik weet dat zij héél ijverig bloemetjes aan het haken is. 😉
De oorsprong van de uitspraak kan ik niet traceren, maar ik vind het wel grappig.;-)

"Crochet is like sex, if I like you and you appreciate it, it is free. Other than that you can't pay me enough."