(English text below)
Tijd gaat snel.
Herinner jullie de uitwisseling tussen Mariemoo! en mijzelf in de aanloop naar onze gezamenlijke tentoonstelling African Diva's – African's Dreams van afgelopen lente.
Ingeborg van Zahia stuurde ons toen allebei een pracht van een paarlemoeren knoop (uit Afghanistan) met de bedoeling dat we er beiden mee aan de slag zouden gaan.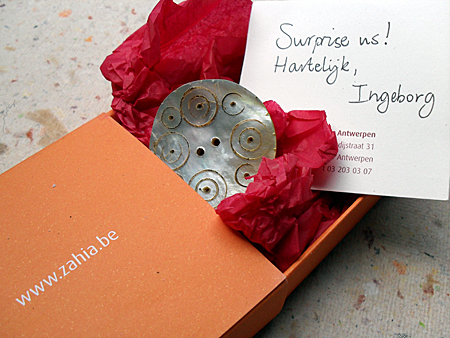 Marie integreerde haar knoop in dit snoer: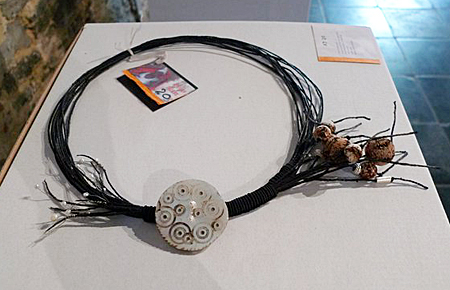 Bij mij was het er niet van gekomen. Aanvankelijk was het mijn bedoeling de knoop te integreren in mijn bruidssnoer, maar de inspiratie kwam niet.
Nu wel:
Het snoer bestaat uit twee gehaakte 'repen' (er zit elastiek in omwille van de stevigheid en het behoud van de vorm).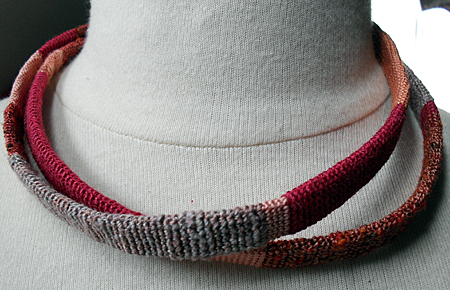 Met grote lussen, die het knoopsgat vormen, maar meteen ook deel uitmaken van het ontwerp, sluit het snoer rond de knoop.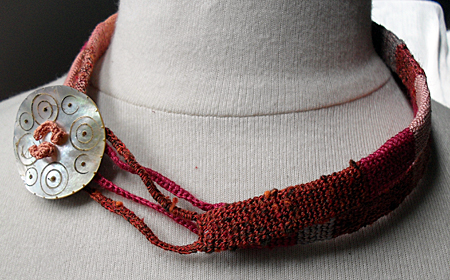 –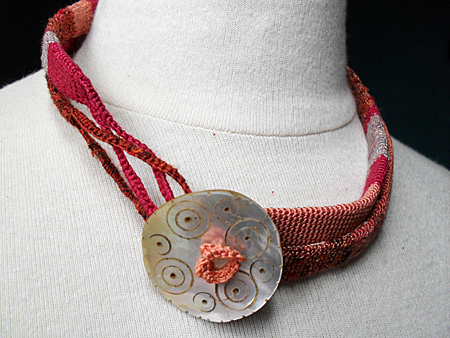 –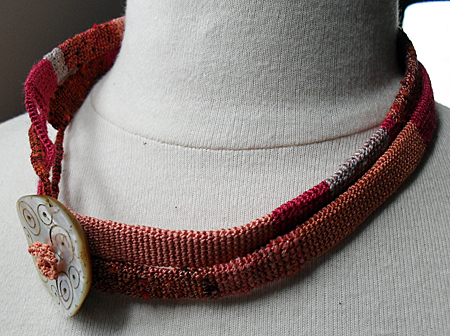 Ik vermijd zoveel mogelijk niet-haak technieken in mijn juwelen. Bij voorbeeld geen lijm, geen naaiwerk, …Â  Om de paarlemoeren knoop aan het snoer vast te maken, haakte ik een reepje dat ik door de knoopsgaten reeg: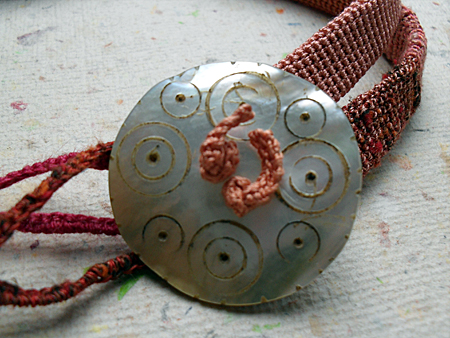 Time flies …
In the months preparing our exhibition Mariemoo! and I sometimes exchanged items, so as to both use it as a source of inspiration for our African Diva's- African Dreams collection.
At that time, Ingeborg from the Zahia shops, sent us both a beautiful mother-of-pearl button  from Afghanistan.  The button was intended to be used by both of us in our collections.
Mariemoo! did use it in the necklace you can see above. I intended to use it in my bridal necklace, but there was lack of inspiration.
But now inspiration has come.
I crocheted these two silk ribbons (there is some rubber inside as to strengthen the necklace and to help it keep its form), using the button as a closure.