(English text below)
Mijn Zweedse draadjes raken stilaan op 🙁
Ze liggen al langer dan een jaar in één van mijn grote dozen vol schatten en nu kan ik er maar niet genoeg van krijgen … 't Is ook wel een spannende bezigheid om steeds op zoek te blijven gaan naar andere materialen. Lang leve internet!
Een nieuw model nu. Het binnenste van deze cirkel is plat, aan de buitenkant golft het snoer. Ik het het ook zelf eens aangedaan: het valt mooi.
Een 'wilde' versie van het snoer zou kunnen zijn: het eerst wat rond zijn as draaien, zodat de de golven alle kanten uitspringen en het dan pas luiten rond je hals.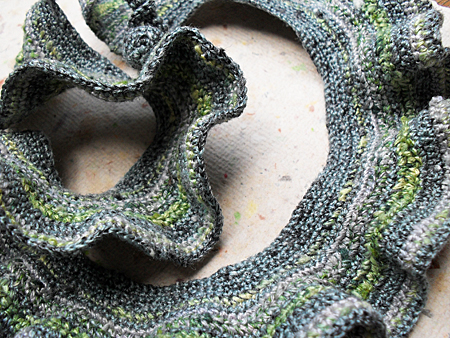 –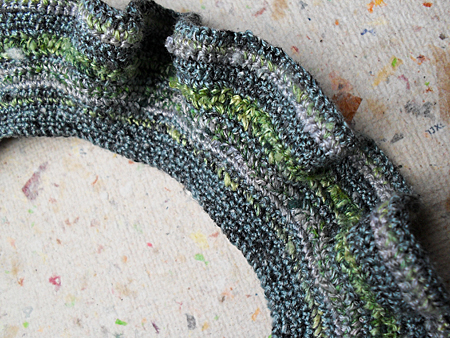 My lovely Swedish silk threads are running out … But, I must say, it is a an exciting challenge to search for new materials!
This new model is flat in the middle of the circle and it has ruffles on the outer side.
You could also try to wear it first turning it around its axe .. the wild way so to say 🙂