(English text below)
Ik heb een zwak voor Skandinavië en ik heb het geluk vrienden te hebben in Stockholm. En zoals dat de voorbije jaren steeds ging: voor het vertrek worden de garenwinkels gegoogeld.
Naar het winkeltje van Ana in het oude stadsgedeelte van Stockholm keer ik steeds terug. Zij verft op bestelling zijde voor haar klanten, wat over is verkoopt ze in haar winkel. En zo kon ik deze resten kopen: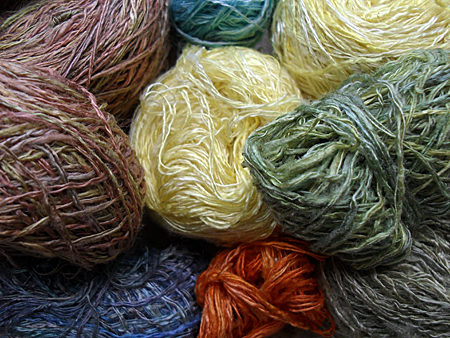 En ik heb nog meer geluk. De man van een vriendin is regelmatig in Stockholm om beroepsredenen. Hij weet het winkeltje ook al zijn en bracht  voor mij ook al van dat zijden garen mee. Ikke content natuurlijk!
Ik ben de voorbije tijd héél zoet geweest met dit materiaal. Het is wat te dun om het enkel te verwerken, maar met bij voorbeeld stikzijde geeft het echt mooie kleuren én een bijzondere textuur.
Hier is nummer één, in zijn volle lengte: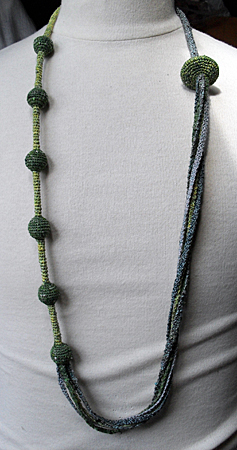 Tweemaal rond de nek: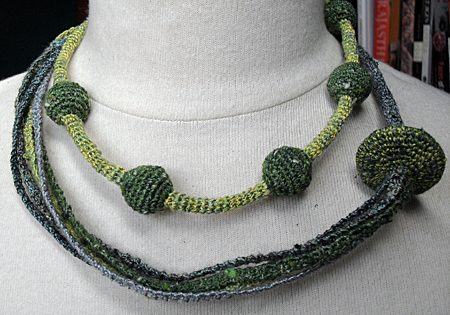 en de details: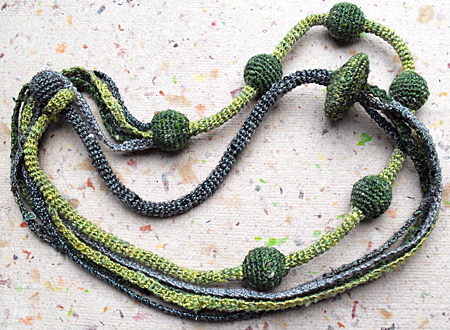 –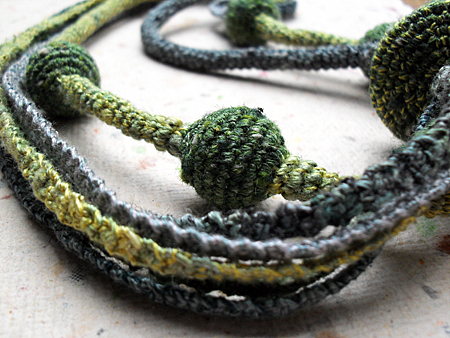 I am a Scandinavia-lover and I am very lucky having friends in Stockholm. So, as for all my trips, I google local yarn shops before leaving.
The silk yarn you can see above I bought in the old part of Stockholm.
A friend of mine's husband regularly goes to Stockholm for professional reasons. He knows where the shop is, and pops in to check whether Ana has some destash of her hand dyed silk. Lucky me!!
The silk is a bit too thin to crochet with my number one hook. But I combine it with silk sewing thead, which gives beautiful colour combos and  textures.
There are more designs to come the following days…