(English text below)
Als ik wat over mijn eigen creatieve verleden vertel, zijn er sowieso  herinneringen aan stofjes en veel gepruts en geknutsel.
Mijn allereerste herinnering als kind is trouwens een knutselfeit. Toen ik in het tweede of derde kleuterklasje zat, moesten we muizentrapjes vouwen. Ik had zelf lang haar en twee vlechten en kon dus met drie reepjes papier vlechten in plaats van de twee reepjes die nodig zijn voor een muizentrapje. Blijkbaar was dat iets uitzonderlijks, ik mocht toen ik alle klasjes mijn papieren vlecht gaan tonen … Ver der heb ik geen bijster goed geheugen, maar dat ik dat nog weet zal wel geen toeval zijn … een selectief geheugen dus 😉
Van die tijd heb ik niks meer om te tonen, maar vandaag vond ik nog een doos met wat spullen uit mijn 'jeugd'.
Juwelen en kralen hebben me vroeger toch ook geïnteresseerd. Een verzameling koraal en been (minstens dertig jaar oud):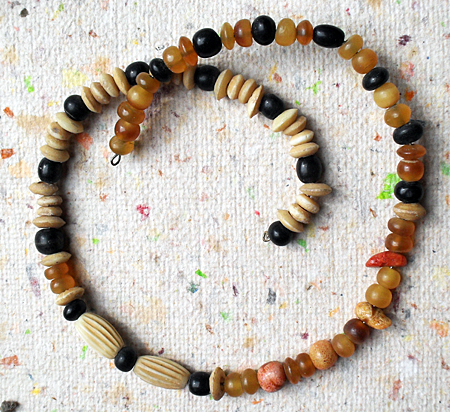 Dit moet nog ouder zijn (veertig jaar schat ik) … lang voor de tijd van juwelentangen en workshops … zelfs het slotje had ik zelf gemaakt: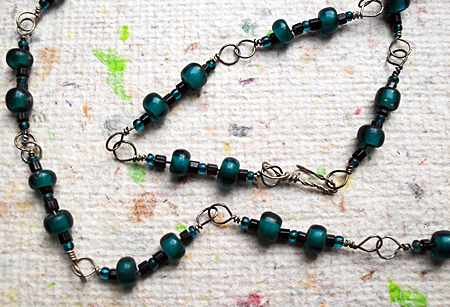 En jawel, ook toen al textiel en asymmetrie: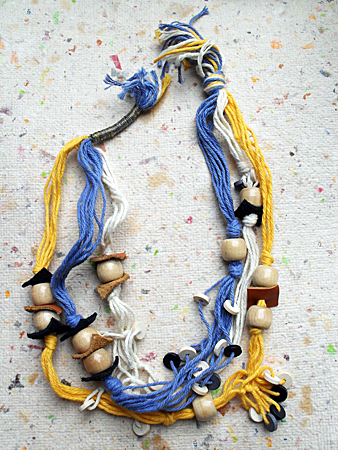 On the pictures above you can see some jewellery I found in an old box. These necklaces are 30 to 40 years old, I made them in my tens or early twenties, I guess.
I remember that I have always been interested in textiles and jewellery. And I am so happy that I found these souvenirs of my creative youth.