(English text below)
Heeft het met de zomervakantie te maken? Of is er wat anders aan de gang?
Om het even,  af en toe verleg ik mijn horizonten. Zoals de voorbije dagen bij voorbeeld …
Ik kreeg zin om met kralen bezig te zijn, zelf kralen ontwerpen bedoel ik dan. En hier is een eerste resultaat: (zelf)gevilte kralen met een soort van netje in haakwerk. Eén kraaltje volstaat natuurlijk niet, het is een heel snoer geworden: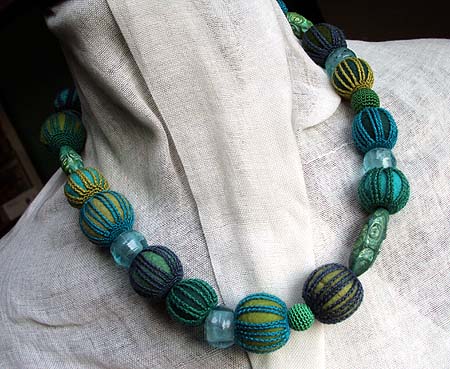 Eveneens present: kralen in polymeerklei en glazen kralen uit Libanon: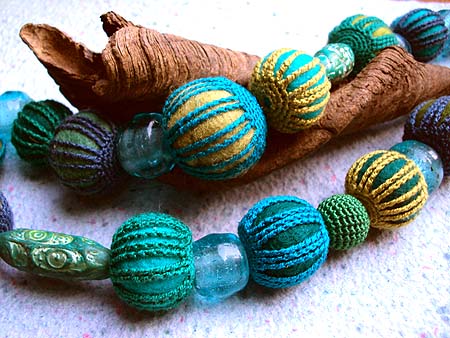 En, het zelfgemaakte zilveren slot (workshop Zahia):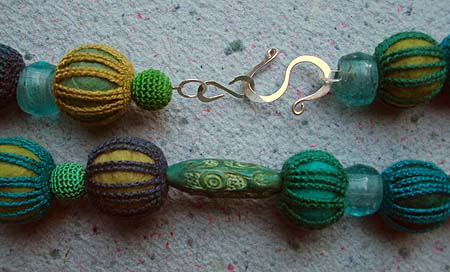 Voila, alles bij mekaar, in toch wel mijn favoriete (steeds weerkerende, I know) kleurencombinatie: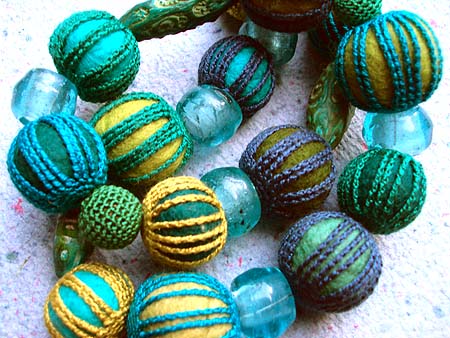 I don't know what the reason might be of my experimenting with making beads myself. Maybe it's the summer season, maybe it's inspiration gathered everywhere , maybe it's just daydreaming …
Above you can see some pictures of my first 'bead design' … I wetfelted some beads and crocheted some kind of silk net around the balls.
Wonder whether you like them …