(English text below)
In mijn vorig blogbericht maakte ik al gewag van een geheimpje dat nog onderweg was. Aangezien het geheimpje inmiddels de bestemmeling heeft bereikt, mag het ding nu ook op mijn blog.
Ik had nog een paar porseleinen kralen overgehouden om er een cadeautje voor Mitsy/Artmind mee te maken.
Het is een sleutelhanger geworden.
En het was echt 'return to sender', ik hergebruikte zowel de enveloppe als het geschenkdoosje.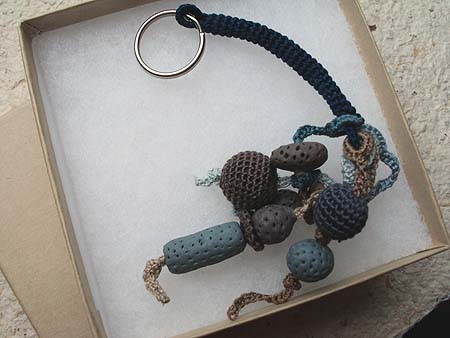 p.s. er kan nog altijd gestemd worden voor mijn gepimpt kaartje op Artmind's blog, klik hier voor de betreffende blogpost.
Referring to my previous blogpost, I have still to show you a present I made with some of the remaining porcelain beads.
I made a keyring for Mitsy/Artmind. You can see it on the above pictures.
p.s. you can still vote for my pimped card on Artmind's blog by clicking here. Thanks!!!