(English text below)
Ze beten in mijn vingers, die zelfgemaakte porseleinen kralen.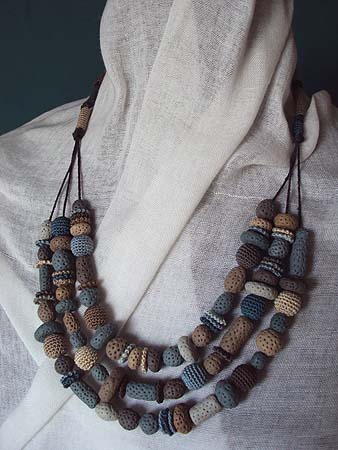 De eerste knoop die moest worden doorgehakt was de keuze tussen een modern halssnoer of toch weer een African Diva's snoer. De inspiratie kwam niet onmiddellijk, dus even in mijn boeken gesnuisterd … Deze foto uit het prachtige 'A World of Necklaces' van Anne Leurquin zette me onmiddellijk in gang: snoeren die mooi parallel lopen én het gebruik van een vezelmateriaal om te rijgen: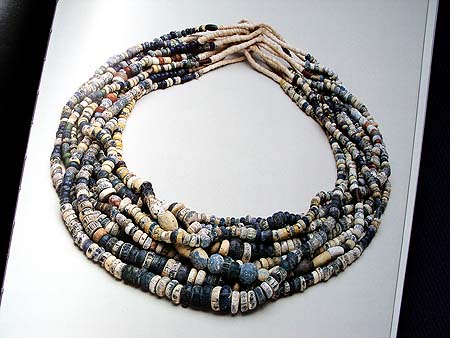 Uiteraard moest daar ook nog een pakje haakwerk aan te pas komen: kleine bolletjes en kleine schijfjes.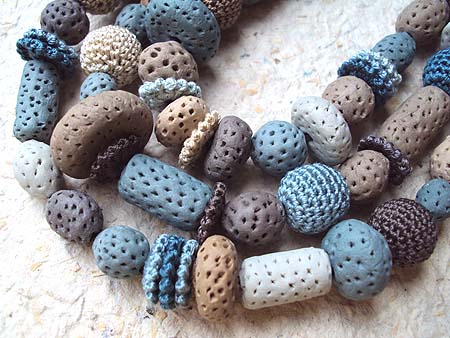 Het was wat zoeken naar een geschikte  overgang van het Keniaanse gras naar het gehaakte slot … De drie touwtjes heb ik gevlochten en daarna vastgezet in een lus.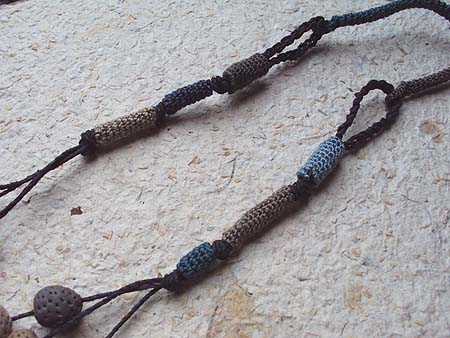 Dit snoer zit er ethnischer uit dan ik ooit had gedacht. Aanzet om nog meer met kralen te werken?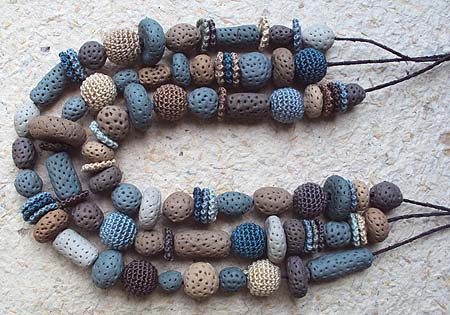 Vanaf hier kan je alle foto's zien van dit multi-strand snoer.
Ik heb nog een paar kraaltjes apart gehouden voor … maar da's nog een geheimpje 😉
p.s. er kan nog altijd gestemd worden voor mijn gepimpt kaartje op Artmind's blog, klik hier voor de betreffende blogpost.
I could not resist working with the self made porcelain beads of the previous blogpost.
First decision to make: will it be a modern necklace or will it be a design that fits in my African Diva's collection??
Looking in Anne Leurquin's beautiful book 'A World of Necklaces' inspired me to go the African way.
From here onwards, you can see all the pictures of this multi strand necklace.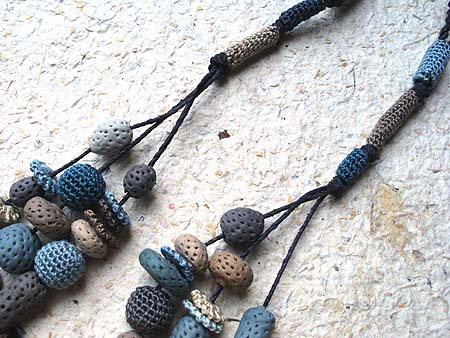 p.s. you can still vote for my pimped card on Artmind's blog by clicking here. Thanks!!!