(English text below)
Mitsy is een fijne Etsy-lady uit Hasselt.  Je  kan haar creatieve exploten volgen op haar blog Artmind.
Naast zich uitleven in keramiek en porselein (en af en toe ook haken!), is ze ook een begenadigd organisator. Toen een paar weken geleden, Etsy z'n vijfde verjaardag vierde, was zij diegene die zorgde voor een Craftparty in haar atelier thuis. En ik was één van de gelukkige deelnemers.
Voor diverse woord- en beeldverslagen kan je terecht op de blogs van alle andere deelnemers: Mitsy zelf, Fleurfatale (Greet), Twootreesbelgium (Annemiek), Babongo (Nicole), Florcita (Mariana), Viltalakim (Kim) en  Deerlola (Ina). By the way, op sommige van die blogs vind je ook de recepten van een aantal van de lekkere hapjes waaraan we ons die dag te goed hebben gedaan.
Mijn eigen foto's kan je vinden op de fotopagina van mijn website door hier te klikken.
Uit de diverse verslagen blijkt het al: een ganse dag zalig bezig geweest met papierporseleinklei. Zelf heb ik enkel kralen gemaakt, waarbij het experimenteren er vooral in bestond diverse kleurtjes uit te proberen.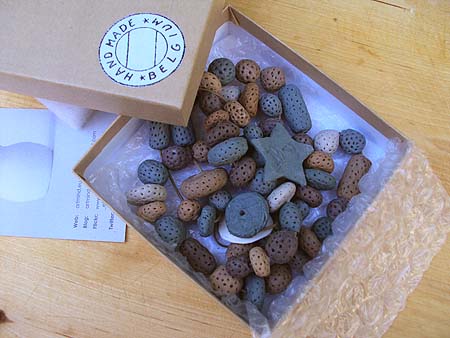 Mitsy heeft naderhand alles gebakken op 1250°. Alle voor- en na resultaten kan je hier op haar blog zien.
En deze week was het zover: het resultaat bij mij in de brievenbus: Ik heb inmiddels alles opgeschuurd met fijnkorrelig schuurpapier. En alles op een touwtje geregen in afwachting van de inspiratie die nog moet komen … want dit moet echt nog een vervolg krijgen.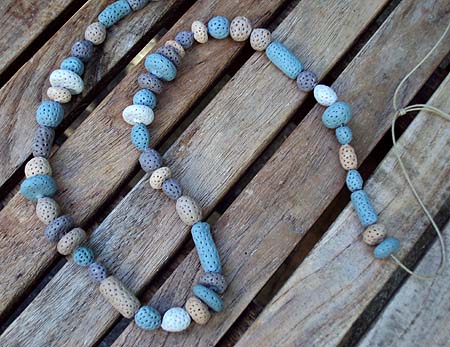 En Mitsy zou Mitsy niet zijn … we kregen één en ander mee naar huis. O.a. deze kruidenstaafjes …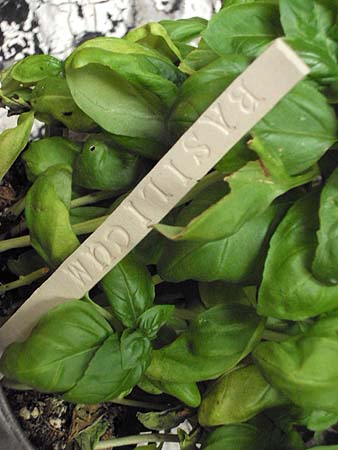 Ik heb nu ook kruidentuintje in potten aangelegd, ter ere van de staafjes van Mitsy … en 'k ben er héééééél blij mee.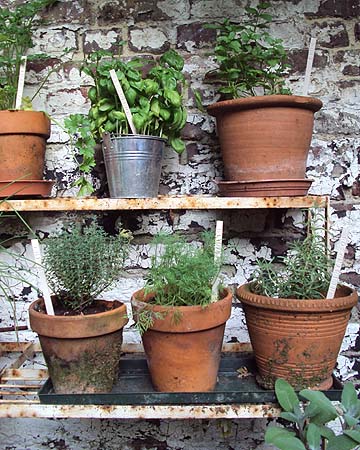 Nog meer cadautjes van Mitsy: een set postkaartjes van haar '99 feelings' project, met het verzoek er eentje te pimpen. En nu opletten!!!! De gepimpte kaartjes staan op haar blog. Je kan een stem uitbrengen voor het kaartje dat je het leukste vindt … er zit er ook eentje van mij bij (maar je mag ook voor een ander kaartje stemmen natuurlijk ;-)) De winnaar krijgt een goodiebag van Mitsy … mmmmmmm. DUS : hier klikken om te gaan stemmen.
Dit is mijn kaartje (de foto is van Mitsy):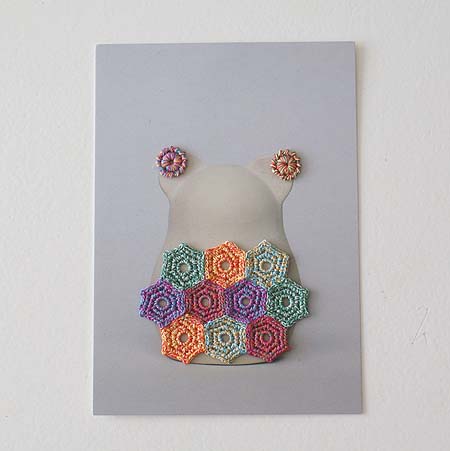 On June 18th, Etsy celebrated its fifth birthday. Mitsy (Artmind) organized a fabulous crafparty at her place for some other Belgian and Dutch Etsians. I was one of the happy invités.
You can read reports (both text and images) on the blogs of the other participants (click on the name of the blog to go to the craftparty-posts): in the first place Artmind (Mitsy herself), Babongo (Nicole), Twootreesbelgium (Annemiek), Viltalakim (Kim), Florcita (Mariana) , Deerlola (Ina) and Fleurfatale (Greet).
You can see my pictures from here onwards.
On the above pictures you can see the porcelain beads I made and the herb indicators we got as a present from Mitsy.
Attention! Mitsy organizes a contest. We all got postcards we had to pimp. She put them on her blog today, and now the voting can start. One of the cards is mine! Click here to go to the voting blogpost and vote (not necessarily for my card ;-)).