(English text below)
De voorbije weken heel wat uurtjes op een trein doorgebracht … steeds in gezelschap van mijn diepvriesdoosje met haakgerief.
Er lag een bestelling voor hangers te wachten en er was ook de Museummarkt van gisteren. Er zaten dus dikke houten kralen in m'n doosje … altijd uitkijken geblazen om met die kralen te werken op de trein … op handen en voeten rondkruipen op zoek naar de weggerolde kraal hoeft niet zo nodig ;))
Tussen haakjes … de markt is gisteren afgelast wegens de regen en de zeer minimale opkomst van ontwerpers. Om halfnegen stond ik daar alleen, om tien uur waren we met drie … en dat was het. Doodjammer!
Terug naar de hangers dus. Hier is het resultaat: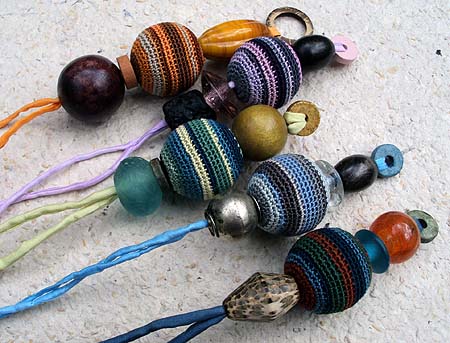 Ik heb me laten leiden door andere kleuren dan die ik gewoon ben: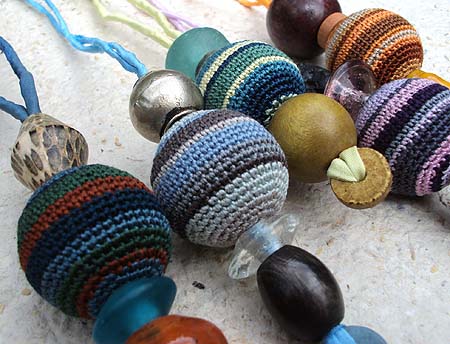 Later zal ik eens een reeks maken die echt bedoeld zijn om bij de African Diva's te horen … maar ook hier zit het ethnische niet ver weg (hoorn, Ethiopisch zilver, gerecycleerd glas, …) :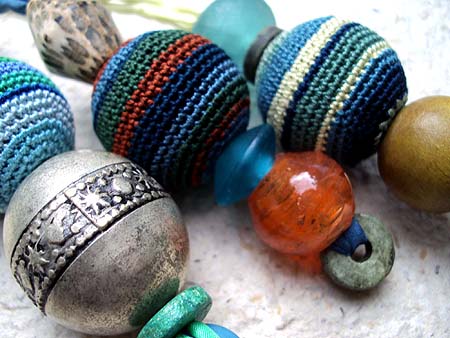 I passed quite a lot of hours on trains these past few weeks, always in the company of a deepfreezebox with silk threads and my crochet needle.
As I got an order for some pendants, that's what I did during my trainhours. Beware when you use wooden beads during a train ride … they fall down easily and you don't want to search them on hands and feet .. :-))
I tried to use different colours than the ones I 'm used to, as you may  perhaps remark.