(English text below)
Twee dagen vrijaf én een lang weekend én de zon die schijnt!
Dat het flink kriebelt en ik daar nu ook de tijd voor heb, uit zich in deze (kortstondige?) nieuwe verslaving: chokers maken. Mijn grote passie ligt echt wel bij volledig gehaakte snoeren, maar deze zijsprong is ook wel plezant.
Het haakwerk kost me twee à  drie uur per choker, schat ik … en dan is het rijgen geblazen.
Voorafgaande leuke fase: shoppen in mijn eigen voorraden. En mij (proberen te) herinneren waar ik de kralen kocht.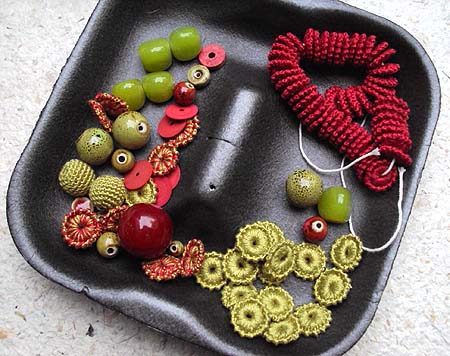 Eentje met een grote donderrode harskraal (Brussel), een groene keramieken kraal (Bilbao) en dunne rode heishi schijfjes  (materiaal en oorsprong onbekend).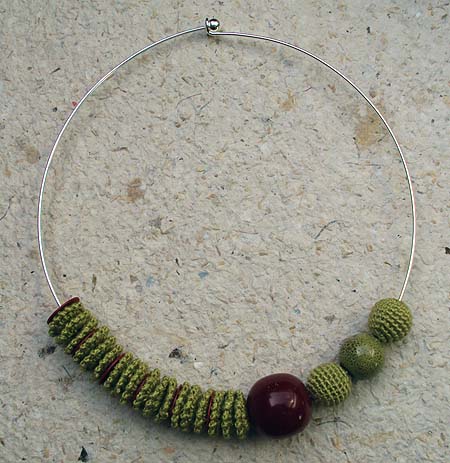 Eentje met vooral veel haakwerk en twee keramieken kraaltjes: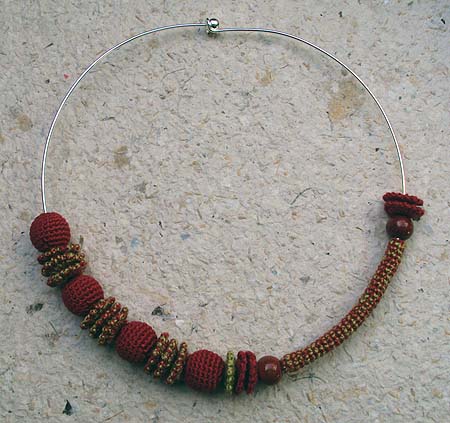 En eentje met zijden schijfjes en weer die keramieken kralen uit Bilbao, er zitten ook twee donderrode harskralen tussen (die komen uit Ethiopië, kadootje van Fleurfatale).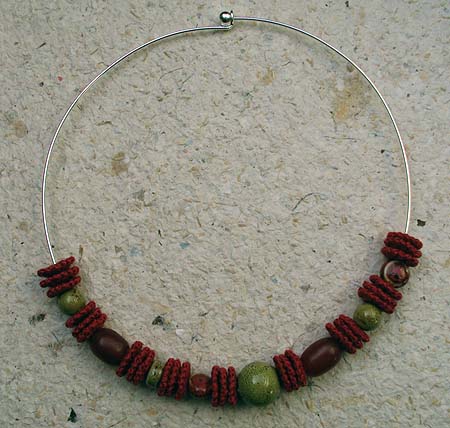 Wordt vervolgd, zo ziet het er toch naar uit 😉
I have two days off, and next Monday is a bankholiday in Belgium, and the sun is shining! This feels so good.
And this gives me time for  a new (temporarily?) addiction: making chokers.
My real passion are necklaces that are entirely crocheted, but I do like  assembling these chokers as well.
It's fun that it only takes two are three hours per choker for the crochetwork , some shopping in my own stack .. . and there they are!
To be continued (at least, I guess so 😉