(English text below)
Zeker als ik alleen reis, google ik op voorhand waar er kansen liggen om zijde te kopen. Wat Stockholm betreft kreeg ik reeds eerder tips van Dominique en nu ook van Carolina (blog: catalinacat).
Starten doe ik altijd in Gamla Stan (het oude stadsgedeelte van Stockholm).
In Sticka was ik reeds eerder. Deze keer kocht ik er enkel wat katoen/viscose dat bruikbaar is voor de workshops.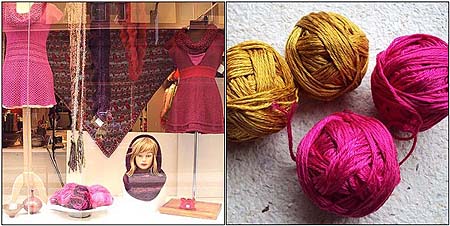 De winkel van Anntorps Väv was een ontdekking voor mij. Ik botste er toevallig op. De handgeverfde zijde hing buiten te drogen … meer was niet nodig om er naar binnen te gaan. Gezellige winkel waar de vrouw des huizes zelf zijde verft, vooral voor weefsters. Ik kon er wat restjes zijde op de kop tikken (waar ik inmiddels al mee aan de slag ging!) en kocht er ook een streng Zweedse wol in prachtige kleuren.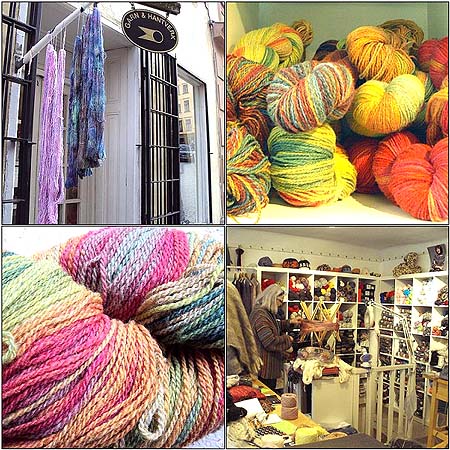 Meer in het centrum, is Mariasgarn. Een grote keuze : zijde, wol, houten brei- en haaknaalden , … Die haaknaalden heb ik gekocht, een set van vijf, met langs beide uiteinden een ander haaknaaldnummer … tien verschillende diktes dus. En heb ik er ook mijn voorraad zijde aangevuld …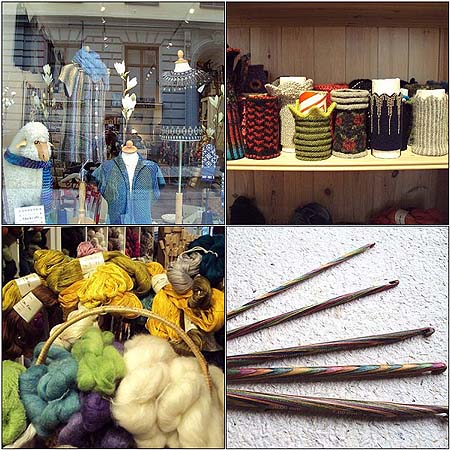 Het centrum voor Zweedse handenarbeid , Svensk Hemsljöd, heeft ook een flinke garenafdeling. Ik kocht er wat katoen, ook voor de workshops.

Wat ik nog meer deed in Stockholm, kan je lezen op de blog van Carolina (klik hier) . Op de blog van Mariemoo! vind je een verslagje met foto's , klik hier.
When I arrive in Stockhokm, I always go first to Gamla Stan (the old part of town). This is where I found the first to shops of this blogpost.
I was in Sticka before. Now I only bought some cotton to use in the workshops.

In Anntorps Väv, (also in Gamla Stan) I bought some handdyed silk and a skein of Swedish wool in gorgeous colours.
More in the city centre are the following two shops:

In Mariasgarn I bought some more silk and a beautiful set of wooden crochet needles.
The shop of Swedish handicrafts, Svensk Hemslöjd, also has a wide range of yarns.

To find out what else I did, you can check Carolina's blog (click here) . On Mariemoo's blog, you can see a photo-report of our citytrip to Stockholm (click here).