English text below)
Cadeau van zoon lief voor moederdag: foto's gemaakt zonder er zakgeld voor te vragen 😉
Hier is ie dan, het langverwachte 16de snoer in mijn African Diva's reeks. Even ter herinnering: het is het snoer waarbij item nummer twee (uitwisselingsproject met Mariemoo!) als inspiratiebron moest dienen. Klik hier om het blogbericht over deze christmas beads en de bijhorende muziek te lezen.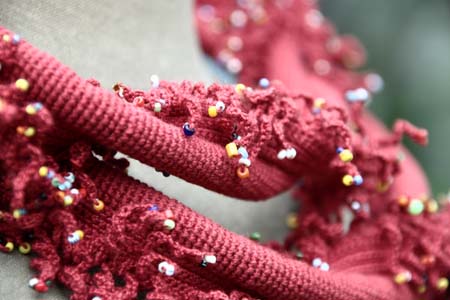 Kora-muziek bleek absoluut mijn ding … relax!
Mijn eerste reactie, toen ik het pakket pas had gekregen en de muziek één keer had beluisterd:
"""Ik heb totaal nog geen idee wat er uit mijn brein zal schieten.
Tijdens het beluisteren van de muziek zijn mijn eerste gevoelens rond inspiratie: rust, golvend, kabbelend, repetitief, eenvoud, tevredenheid…
De kraaltjes vind ik machtig mooi, telkens ik er naar kijk ontdek ik kleurtjes die ik tevoren nog niet zag.
Dat wordt ook een 'uitdaging' ('k zet dit woord tussen aanhalingstekens, omdat ik het een cliché woord vind en het een beetje beu gehoord ben): ik werk normaal niet met zo'n kleine kraaltjes… hoe krijg ik die gecombineerd met haakwerk … tralalala, 'k ben zelf al nieuwsgierig ….I"""
De aanknopingspunten als repetitief, golvend, eenvoud, rust, fijne details,  .. zijn overeind gebleven, ook na de vele keren dat ik de muziek inmiddels heb beluisterd.
En wat de kleine kraaltjes betreft: ik had geen enkele naald in huis waarmee ik de kralen op mijn zijden draad kon rijgen .. ik heb ze dus allemaal, stuk voor stuk, op de draad geregen op de 'oude' manier: beetje speeksel aan het draaduiteinde om het puntiger en steviger te maken, en dan de kraaltjes erop …
Vinden jullie die begrippen daar in terug?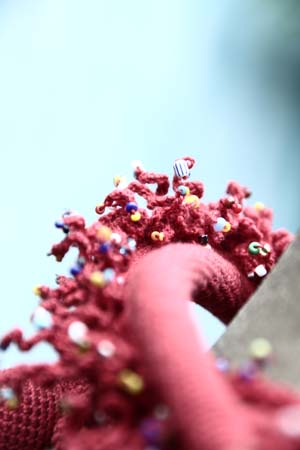 Ik ben heel graag ( en 't was ontieglijk lang!!) met dit snoer bezig geweest. Het is er zeker eentje dat niet tot stand zou zijn gekomen zonder de door Marie aangeboden inspiratiebronnen.
Je zou het op verschillende manieren kunnen dragen. In z'n volle lengte: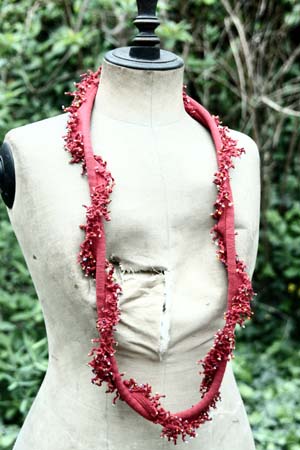 Gewoon dubbel: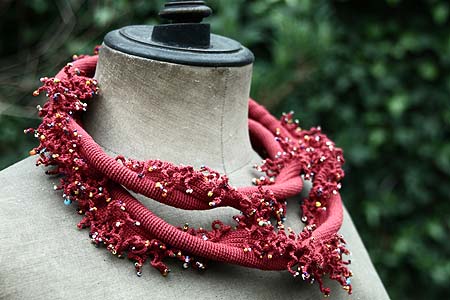 Of in mekaar gestrengeld:
Het slotje, wat je ook vooraan of opzij zou kunnen dragen: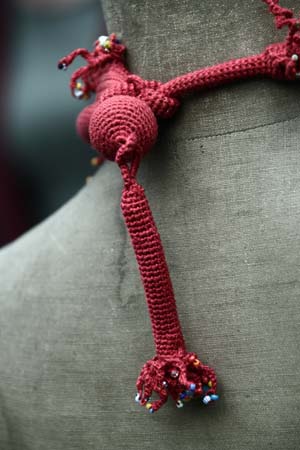 Vanaf hier kan je alle foto's zien van dit snoer.
En hier kan je zien wat Marie met de christmas beads deed.
This was son's Mother's Day present: making pictures without wanting pocket money for it ;-)) So, here it is at last: African diva number 16! It's the one inspired by item number two in the mutual project of Mariemoo! and myself. Click here to read the blogpost dealing with these christmas beads and the kora-music accompanying them.
I loved to be busy with this necklace. This is what I tried to put into it (after listening a lot to the kora-music Marie sent me): repetition, waves, simplictiy, fine details, relaxation, … Do you recognize these feelings in my necklace?
From here on, you can see all the pictures of this necklace.
And here you can see what Marie did with these christmas beads.