(English translation below)
Ik ben terug van Stockholm, een verslagje volgt één dezer!
En, ik heb nog steeds geen foto's van African Diva number 16 en 17 … nog daarvoor even geduld dus.
Geen foto's van vorige werken, maar ik zit wel niet stil ;-)Â  In het vorige bericht, het bezoek van Mariemoo! aan Gent, toonde ik de Malinese spingewichten, het vierde item in ons inspirerende uitwisselingsproject! Klik hier voor de Engelstalige Wikipedia-pagina over spintollen.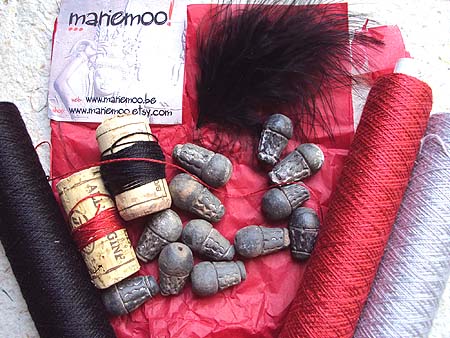 Genietend van een heerlijk zonnetje (ja, in april scheen de zon nog wel eens …) vroeg Marie me, waarom ik nooit in zwart werkte. Mijn antwoord: dat kan ik enkel doen in de zomer en buiten … licht is dan van primordiaal belang. Bij kunstlicht zo'n  fijn werk doen in zwart, is niet te doen voor mijn ogen. In dit nieuwe snoer zit wel zwart … dat betekent dat de zon wel af en toe scheen 😉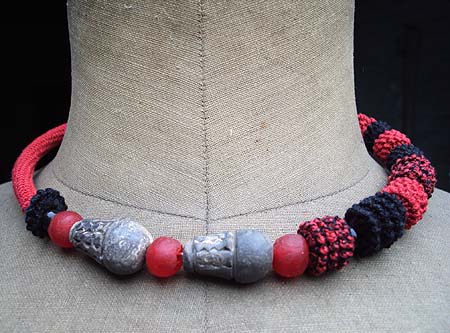 Mijn schijfjesverslaving kreeg hier ook de vrije loop. Superplezant om gewoon schijfjes zitten te haken op de trein, in mijn middagpauze… En ze keurig verzamelen vond ik ook leuk om te doen en te zien: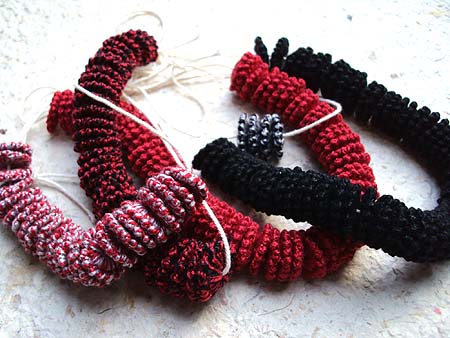 De Malinese spingewichten vind ik zoooooo mooi, dat ik het zonde vond om ze allemaal in één snoer te verwerken. Ook dit is dus nieuw voor mij: werken met een verzilverde choker én dus rijgen!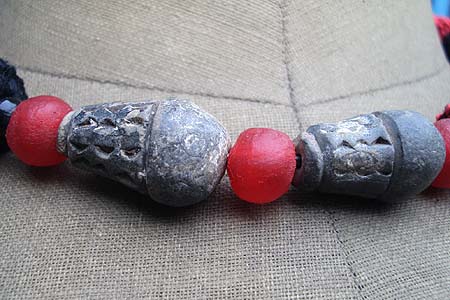 Toch wel spannend om te doen. Het is voor mij ook echt anders werken. Bij mijn snoeren die louter uit haakwerk bestaan, trek ik wel eens een stukje af dat me niet bevalt … bij deze choker heb ik de hele boel er minstens vier keer allemaal afgehaald en opnieuw geregen. Het is voor mij blijkbaar makkelijker om een gehaakt ontwerp in mijn hoofd vast te houden dan een geregen ontwerp.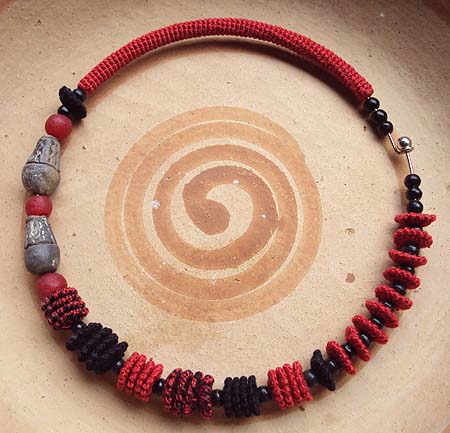 Gebruikte materialen in dit snoer: de zijde uiteraard, de Malinese spingewichten (gekocht in Senegal), rode kralen van gerecycleerd glas (Ghana) en de kleinere zwarte ronde kralen zijn hoorn.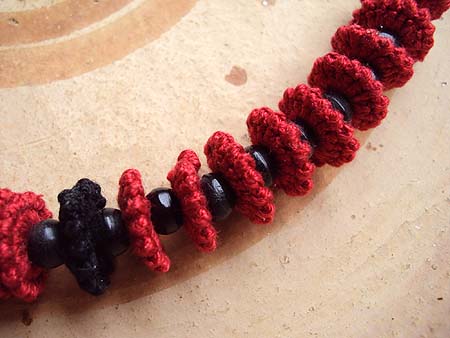 Ik heb echt wel zin om nog meer van deze snoeren te maken. De spingewichtjes worden uiteraard verder gebruikt. En ik plan ook een aantal chokers die los staan van deze African Diva reeks. Yes! Inspiratie te over!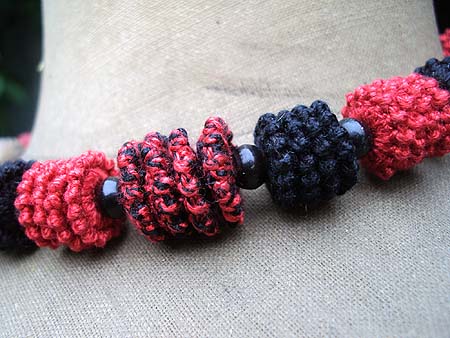 Vanaf hier kan je alle foto's zien van dit snoer.
In my previous post on Mariemoo's visit to my hometown Gent, I showed you the Malinese spindles she gave me , as the fourth item in our African inspiration exchange project. Click here for the English Wikipedia-page on spindles.
While having a lunch in the beautiful city centre of Ghent, Marie also asked me why I never work in black. My answer: in need sunshine and being outside for doing this very fine crochetwork in black.
So, this choker proves that there has been some sunshine in April, although now it's cold, windy and rainy …
It's the first time I make a necklace on a choker. It's really different for me to work this way. I like it a lot, but it seems that it 's easier for me to have a crochet design in my head than a bead design. I've restarted this choker several times …
Curious to know what you think of it. Anyway, I plan to make more of them, not only with the other spindles but I also want to make some chokers that stand apart for this African Diva's project. To be continued!!!
Materials used in this choker: silk, Malinese spindles, red beads made from recycled glass (Ghana) and black hor nbeads.
From here onwards you can see all the pictures of this necklace.