Jullie hebben nog de foto's te goed van het derde bruidssnoer.
Ik krijg er wel leuke reacties op. Vooral verrassing en verbazing dat ik ook wel eens 'zonder 'kleur werk. Voorlopig ben ik weer met kleur bezig, maar ik neem dit thema later wel opnieuw op.  En het model ben ik ook aan het uitwerken in andere kleuren voor de Le Quattro Stagioni collectie.
Voilà , hier is het snoer, na het instoppen van de draadjes: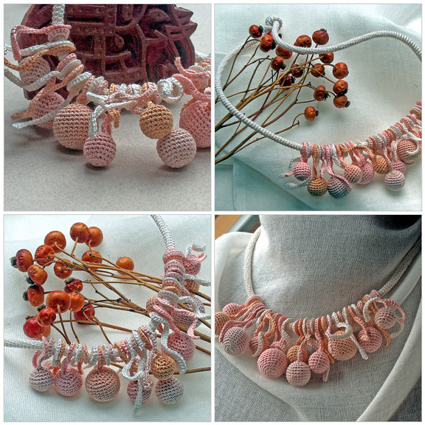 These are the pictures of my third wedding necklace. People seem to be surprised that I worked without colours. Yes, Ik know I'm a colourful woman. At this time I've turned to my full colour passion again, but I will certainly take up this theme later on.
En ik wil jullie graag een Amerikaanse textielartieste voorstellen : Marty Jonas. Ik leerde haar kennen via Etsy. Ze borduurt vooral. Wat ze daarmee doet op zelf gekleurd vilt, vind ik echt heel mooi. Hier kan je haar werk bekijken.
And I want to introduce to you an American textile artist: Marty Jonas. I met her through Etsy. She is the first place an embroiderer. I like a lot her dyed felt compositions with subtle embroidery. You can admire her work here on her website.