(English text below)
Eerder deze lente wijdde ik reeds een post aan mijn ringenverzameling. Inmiddels is het tijd voor een update.
Ik heb er zelf nog een aantal gehaakt. Niet echt een nieuw ontwerpen, eerder een variatie op een thema. Bij deze ringen heb ik het kleuraccent op de bol zelf gelegd:

Op de Kunstsuperette in Gent (juni 2009) kocht ik deze papieren ring van Violent Knitting Femme. Daar schuilt Sophie De Laere achter. Ze heeft bij mijn weten geen site of blog, maar hier vind je wel wat meer info over  haar.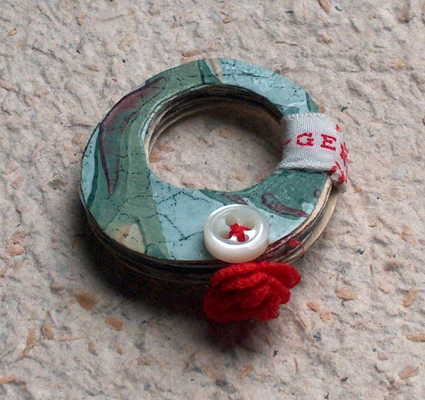 Op de woensdagse markt in Matignon (Bretagne) kocht ik deze ring in fimoklei. Het was een leuk kraam met nog meer handgemaakte dingen. Deze juwelen en tassen worden verdeeld door Olicen B., op de website vind je meer producten (en inspiratie).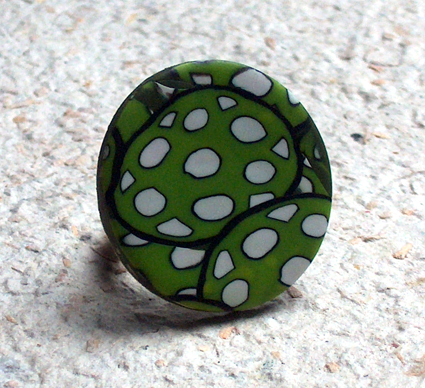 En dan, dit juweeltje! Gekregen van Fleurfatale! Zij volgt mijn zoektocht naar de juiste ring bij de juiste outfit – 'k denk dat ze er zich ook graag aan overgeeft ;-). Deze ring bestaat uit een echt schelpje, ik vermoed dat de ringvorm zelf resine (hars) is.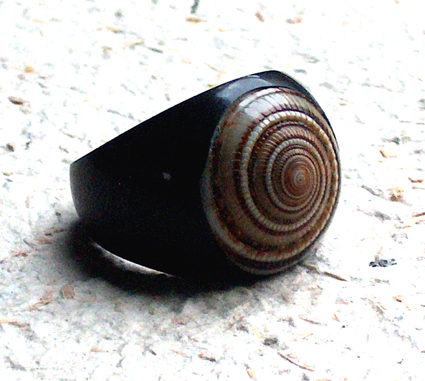 Ter illustratie van het welslagen van een combinatie (mijn jurk, laarzen en een halssnoer uit de eigen collectie) met deze ring: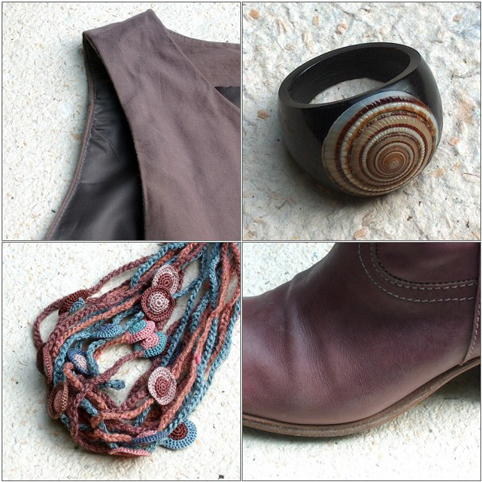 Some time age, I showed you my special ring collection. Time for an update.
On the above pictures you can see new rings I crocheted myself.
Then, there is a paper ring I bought from Violent Knitting Femme, a lady I met on a craft fair in Gent. As far as I know, she does not have a blog or site, but you can read more about her here (only in Dutch).
The green ring is made in fimo-clay (polymerclay); I bought it on a market in Britany. There was more handmade jewellery on this booth, distributed by Olicen B. quite an inspiring site.
The last ring is a present from Fleurfatale. She knows that I'm always in search for rings fitting perfectly well with my cloths. And indeed, her ring goes so well with this dress  and boots I bought this summer.