(English text below)
Tijd vliegt … ik ben inmiddels al een maand terug uit Ecuador. En heb nog wat te tonen.
Eerst dit: ik heb ook op het vliegtuig zitten haken. Geen problemen gehad bij de security check. Ik had in mijn handbagage een haaknaald mee, eentje waarvan de houder (de bovenste helft dus) in plastiek was. En ik had er een haakwerkje bij gestoken dat al een eind was gevorderd, aldus meende ik de veiligheidsagenten te kunnen overtuigen van de goeie bedoeling van dit puntig instrument. Maar zo'n vaart liep het niet, ik mocht gewoon door, geen enkele vraag werd me gesteld.
En hier zijn ze, made in Ecuador: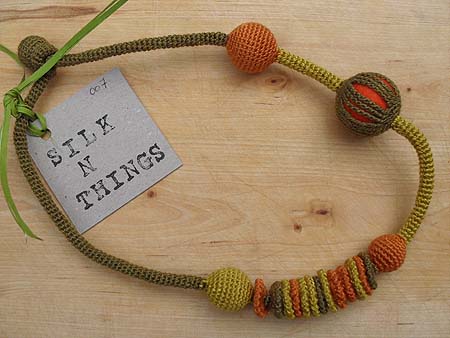 Silk'n things nummer zeven: zijde en vilt.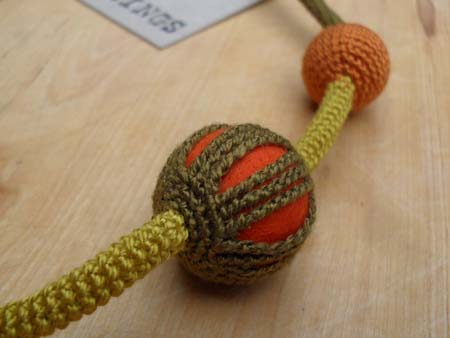 Leuk detail: de zijde van dit snoer kocht ik in Stockholm.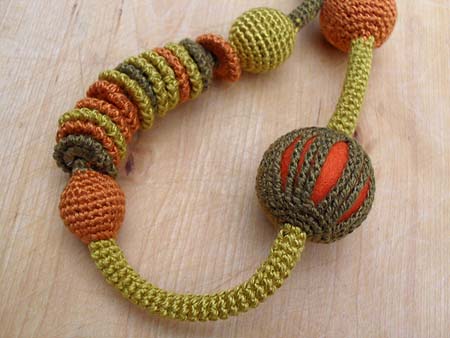 Nog een Silk'n things (nummer acht): heelwat yards verschillende texturen zijde, in bij mekaar kleuren.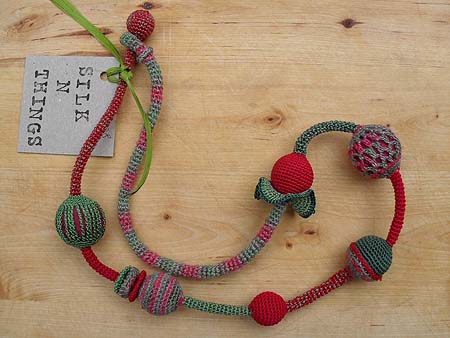 En iets nieuws geprobeerd, een soort van netje gehaakt rond één van de vilten kralen.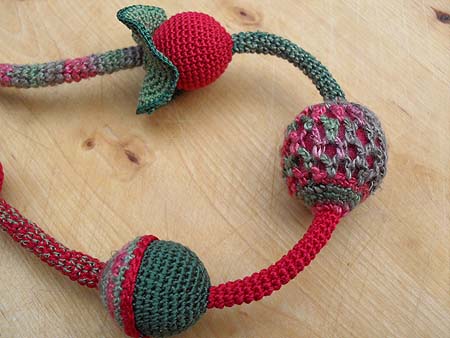 Dit groen/rode snoer is langer dan het vorige.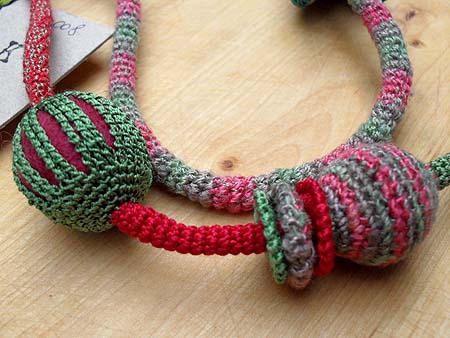 De volgende keer toon ik het derde snoer dat ik in Ecuador haakt.
Time flies! It's already one month that I am home from Ecuador.
Did I tell you that I managed to take a crochet needle on the plane? I had one in my handluggage. It was a model half metal, half plastic. And I added a crochet work in progress, so it was was clear what the good intentions of this instrument were.
Above, I show you the necklaces I made all these miles away from my hometown. The necklaces belong to the Silk n' things collection.
I made one more necklace overseas, which I will show you next time.