(English text below)
Héél af en toe, maak ik iets op bestelling. Ik krijg dan richtlijnen qua kleur in de zin van "iets roods, met krulletjes in grasgroen,bruin en oranje, maar vooral rood".
Ik ga dan in mijn voorraad snuffelen, maar rood is sowieso een kleur zijde die ik heel moeilijk kan vinden… Voor de veraf vriendinnen stuur ik dan een foto met het materiaal dat ik voor hen zou kunnen gebruiken: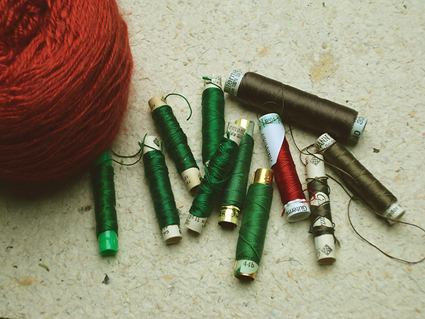 En dan komt er een mailtje terug: "Het groen mag je weglaten. Ik zou hem zelfs voornamelijk in roodtinten willen. Is dat mogelijk? Er mag af en toe een krulletje bruin bij als je dat een meerwaarde vindt. Ik vertrouw u ;-)!"
Rode zijde dus … ik  heb mij aan een bestelling in Engeland gewaagd en ben er best tevreden mee. Het is iets dunner dat mijn zijden cordonnet, maar twee draden samen geeft een mooi resultaat.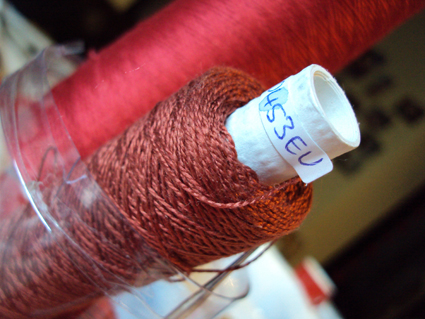 Ik zat aan onze keukentafel te haken, toen ik plots besefte dat ik helemaal tussen het rood zat: rode draden, rood tafelkleed een rood kopje. Een blogster neemt dan uiteraard onverwijld een foto:
En dit zijn de foto's van zoonlief toen de armband bijna klaar was: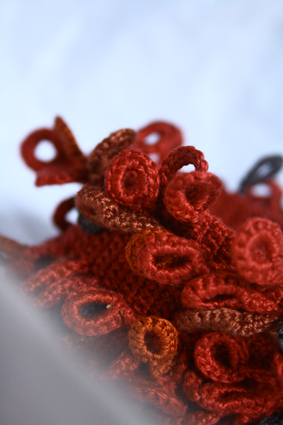 De sluiting stond er toen nog niet op (als je goed kijkt, zie je dat ik de armband met een speldje hebt dichtgemaakt):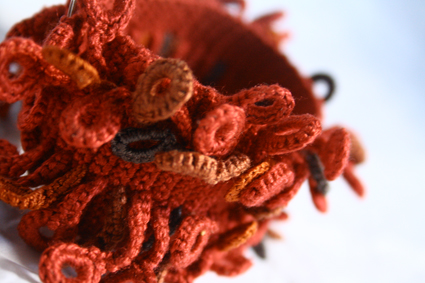 Niet te zien op de foto, maar het waren uiteindelijk drie ronde bruine glazen knoopjes die ik als slot heb gebruikt. Ik heb zo nog meegebracht van mijn reis in Vietnam in 2003.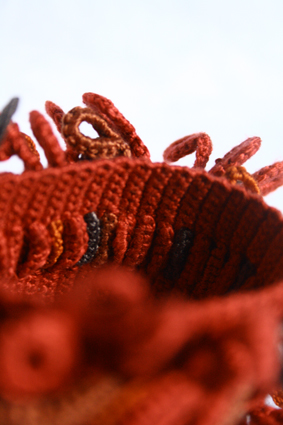 Ja, haken is ook altijd een beetje reizen in mijn hoofd. Maar ook in het echt: want morgen ga ik voor een dagje naar Londen om o.a. nog meer zijden draad te gaan kopen. Zalig vooruitzicht!!
Exceptionally, I make custom orders… Like this one.
A friend of mine wanted a red bracelet, preferably with grass green and brown accents.
I made a picture of the yarn I could find in my stack and mailed this picture to her (1st picture). She then decided to drop the green part of the order and asked me to focus on the red. So I did.
Sadly enough, red silk cordonnet is really hard to find. But I made an order in London to try some new material and it arrived just in time (2nd picture). This silk yarn is a bit thinner than the cordonnet, but it works very well, when I crochet two threads together.
The other pictures show the bracelet when it was almost finished. It just needed a clasp. I took three round brown glass buttons, I bought in Vietnam in 2003. So, even crocheting is always some kind of travelling in my head.
And sometimes also in real: tomorrow I go to London for one day. And I'll buy some more silk… and hope to find even more African inspiration…. te be continued.