(English text below)
Jullie hebben nog dat 'liefdesverhaal' te goed!
Dat ik mij al een paar maanden laat inspireren door alles wat uit Afrika komt, is inmiddels al geweten. En dat ik een zwak heb voor Mariemoo! heb ik ook niet verstopt.
Ik heb haar 'ten huwelijk gevraagd' – bij manier van spreken dan. Het idee om iets samen te doen, kwam regelmatig bij mij op. Haar enthousiasme, haar liefde voor authenticiteit en ethnische materialen, ook haar hedendaagse originele ontwerpen, … 't is ook mijn ding.
Mijn African Diva's hebben dus een tweelingzusje gekregen. Marie werkt nu ook aan een Afrikaans geïnspireerde collectie onder de naam 'African Dreams'. (klik hier op Mariemoo!'s blog, om over dit project meer te lezen).
't Is de bedoeling dat we mekaar inspireren en de dingen grootser zien dan we in ons eentje aankunnen. En dat we er ons vooral allebei geweldig mee amuseren. Als het lukt, ronden we dat eind volgend jaar af met iets 'groots' …
Toen ik begin november in Africouleur was, kocht ik er ook twee bronzen kralen (verloren was techniek) uit Ghana. Eén van de twee stuurde ik naar Marie, met de andere wil ik zelf aan de slag. Als ik hem terugvind tenminste, 't is hier paniek, want op dit moment is ie zoek :-((((.
Dit is de bewuste kraal: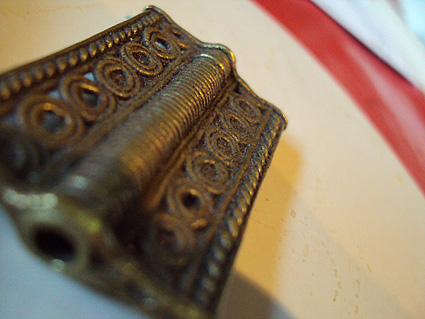 Binnenkort vertrekt Marie voor een maand naar Senegal… het volgende inspirerende voorwerp zal van daar komen! Ik kijk er heel erg naar uit! …
En nog iets grappigs: ik bestelde bij Amazon nog wat boeken  over Afrikaanse juwelen en ook nog een boek over de geschiedenis van kralen. Je moet 'ns zien hoe die boeken geleverd werden: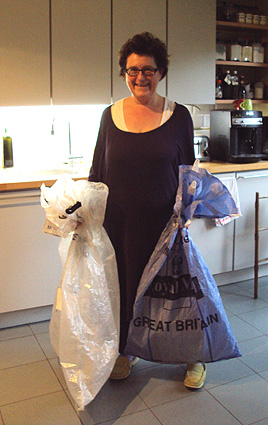 De rechtse zak is van Royal Mail (UK), de linkse is van de US postal services. Indrukwekkend, zo'n levering! 😉 (en in elke zak zat echt maar één boek).
I want to tell you a love story. You know that I've been busy with that African Diva's collection. Well, I invited Mariemoo! to join me. I so love her work, her contemporary designs with ethnic materials, het enthusiasm, her authenticity …
So, my African Diva's have a twin sister from now on. Marie called her  African collection 'African Dreams'. We intend to inspire each other the following year, and then 'do' something (exhibitiion??) with it.
The first inspiring object is the bronze bead you see above. I bought two of them in Paris beginning of November and it originates from Ghana. I sent one to Marie and kept the other one to use it myself. Panic: the moment I write this blogpost, I can't find my bead anymore :-(((((Â  Hope to find it soon, because I eagerly want to get started with this common project.
In two weeks, Marie leaves for Senegal. So the following inspiring object will come from there.
The second picture is quite fun. Look at the enormous bags: they each contained only one book I had ordered at Amazom.