(English text below)
Afgelopen zondag effectief naar 'Le cri de l'âne' in Brugge geweest: op bezoek bij Trui Demarcke (haar zachte stijlvolle sjaals zijn zééééér de moeite!) en Lievandrie (als je mijn eerdere blogpost hierover wil herlezen, klik hier).
Zalig was het, babbelen met de creatieve madammen (Greet/Fleurfatale was er ook bij) . En jawel, ik heb een halssnoer van Lie gekocht. Prachtig. Ondertussen heb ik het al aangedaan om te gaan werken, sommigen dachten dat het knoopjes of schelpen waren, neen hoor: het is porselein! Zie de foto hieronder, duidelijk een illustratie van het plezier dat ik beleefde aan dit bezoek.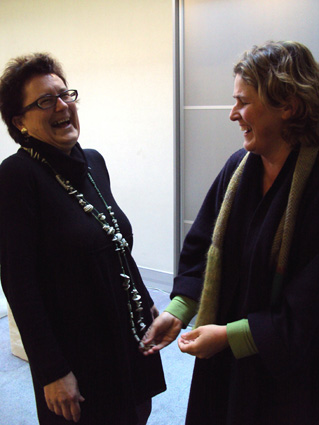 "Met hand en ziel gemaakt' is trouwens de slogan die op de bijzondere verpakking staat van Lie's halssnoer.
En dat motto geldt ook wel voor onderstaand beurs- en tentoonstellingsnieuws:
* zaterdag 5 en zondag 6 december 09 bij De Vuurkorf in Wondelgem
Opendeur weekend in de Kerstsfeer
De Vuurkorf: handgeschept papier en boekbinden
Aalbessenlaan 21 9032 Wondelgem 09/227.36.22.
Zaterdag 5 december '09 van 14 tot 20 u
Zondag 6 december '09 van 14 tot 18 u
* vanaf zaterdag 5 december tot 30 januari 2010 in Galerie Ingrid Adriaenssens: Jorge Manilla
Ik zag het werk van Jorge Manilla de eerste keer tijdens Oeverture/Gent twee jaar geleden. Het bekoorde me direct, omdat hij ook wel eens werkt met textiel (haakwerk in katoen)…Bleek het een goeie kennis van Ingrid te zijn. Nu dus te bewonderen in Ingrid's atelier.
Meer info en openingsuren van de galerie op de site van Ingrid, klik hier. Voor meer info over Jorge Manilla, klik hier.
*Â  vrijdag 18 december en zaterdag 19 december 09 in 't Kratje in Wuustwezel (waar ik dan toch nog een beurs doe, ik verhuis dus even naar de Kempen!)
voor de 5° maal organiseert het
volwassenenatelier samen met het jeugdatelier
een open art shop d.w.z. kijk-kunst-koopdagen
en dit op 18 en 19 december a.s.
In het vooruitzicht van de komende feestdagen presenteren kunstenaars en amateurkunstenaars, cursisten en kinderen hun werk met het oog op de verkoop ervan.
Een buitenkans om u smaakvolle , unieke of originele geschenken aan te schaffen voor een milde prijs.
Wij willen u graag verwelkomen op deze
open art shop in kerstsfeer.
Vrijdag vanaf 16.00 uur
zaterdag van 10.00 tot 18.00 uur
in het vormingscentrum
Gasthuisstraat 7, 2990 Gooreind-Wuustwezel.
kijk eens naar www.kratje.be
tel. 03/663 45 63 of 03/663 37 37
Voilà , dat was het … en nu ga ik lekker nog wat haken aan een snoer van het liefdesverhaal waar ik het al even over had ;-))) Da's voor een volgend bericht!
This post is about soms fairs and expo's these coming weeks. Maybe the craftfairs themselves are too far away. But please feel free, to click on the links to meet some talented Flemish designers.