(English text below)
Inspiratie is een fantastische wereld. Vaak weet ik aan het einde van een afgewerkt juweel niet meer wat me allemaal heeft geïnspireerd. Zowel bij de start van een snoer, als de hele periode dat ik eraan werk en afwerk, komen er van overal prikkels. Voor mij zijn dit gelukkige momenten.
Bij het ontwerpen van de African Diva's snoeren, probeer ik mijn inspiratie te 'inventariseren'. Ik wil hierbij ook echt vertrekken van een foto, een detail uit een snoer, materiaal, …
En kijk, AD 7 is in wording.
Foto's van Afrikaanse snoeren bekijken, is vaak een overvloed van kleuren en kralen, ook kralen in buiten-gewone materialen (schelpen en been b.v.). Een hele poos geleden, kocht ik een doos geverfde palmnoten. De kleurtjes vond ik erg mooi, de vorm ook … Inspiratie dus voor dit snoer.
De doos met palmnoten: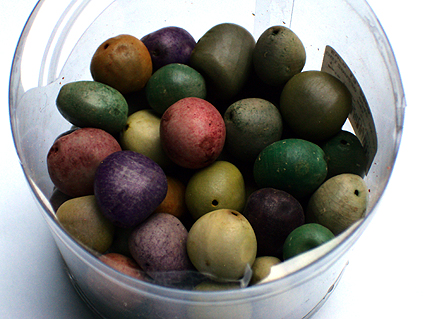 'Palmnoot' googelen leidt vooral naar voer voor parkieten en papegaaien. En ook palmnootolie (moambe!):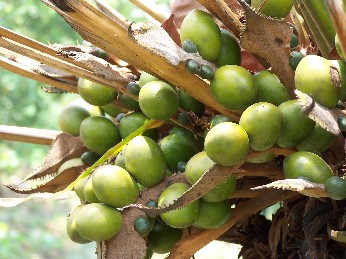 Het uitzoeken van bijpassende kleuren zijdedraad: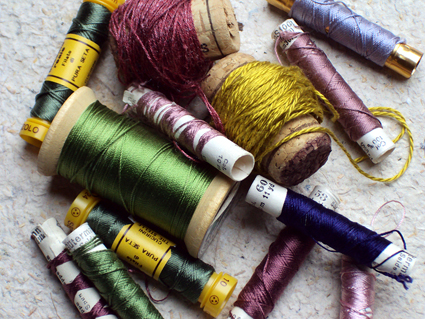 Kralen overtrekken, want dit snoer moet echt een overdadig kralensnoer worden:
Op het moment dat ik dit bericht post, is het snoer al goed opgeschoten. Het had al kunnen afgewerkt zijn, maar zoals dat gaat met inspiratie: het houdt (gelukkig!) niet op… Nu op mijn werktafel: twee afgeleide snoeren van AD 2 (klik hier om je te herinneren hoe AD 2 er uit ziet) en het snoer met de bronzen kraal uit Parijs.
Hou m'n blog in de gaten! 😉
Inspiration is a great thing.
Often, at the end of a necklace I don't remember all the steps inspiration has taken me to.
But, as for the African diva's collection, I really want to inventorize my inspiration sources.  Watching pictures of African jewellery, is often a profusion of colours, forms and materials.
Some months ago, I bought this box of dyed palmnuts. I loved the form and the colours of it. They're the main inspiration of my AD 7 necklace.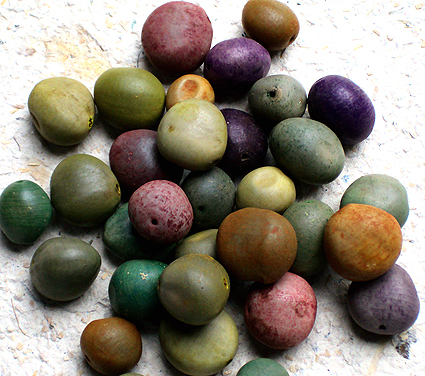 Googling 'palmnut' leads in the first place to birdfood, and to palmnutoil of course (moambe).
At the time of posting this message, this necklace is almost finished. It could have been finished completely, were it not that there are three more necklaces on my desk now: two 'derivates' of my AD 2 (click here, to remember how AD2 looks like) and of course, there is the one with the bronze bead I bought in Paris.
So watch my blog, there is more to come!