(English text below)
Sommigen onder jullie zagen  op 15 november ll in Halle bij Hilde de eerste preview geven van mijn African Diva's collectie.
Het snoer met de vele tubes in geel/bruine tinten was er ook bij, dat wou ik  tegen dan toch echt wel afgewerkt hebben. Wat ik over dit snoer voordien reeds schreef, kan je hier en hier lezen.
Ik heb lang afgewogen op welke manier ik de tubes zou samenbrengen tot een snoer. En het is koperdraad geworden.
Alle tubes werden in eerste instantie afgewerkt met kleine kokoskralen. De schijfjes zijn met fijne koperdraad aan de tubes gehecht.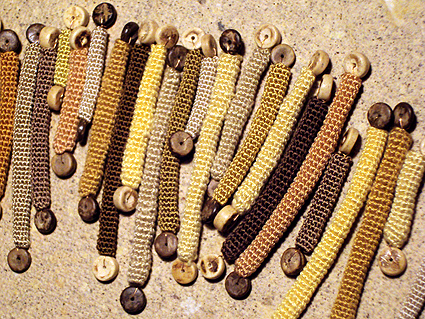 Daarna alle tubes op de koperdraad geregen in de volgorde dat ik ze in het snoer wou zien …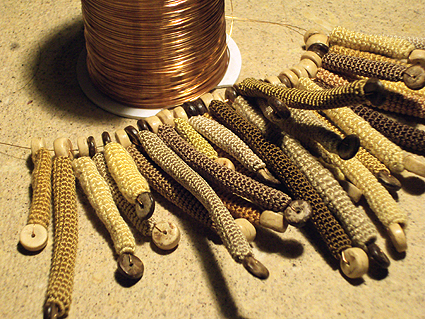 En daarna alles vastgehaakt (haaknaald nr. 2)
Het is een twee-snoeren halsketting geworden. Hoe het er nu echt uitziet en wat voor slot eraan zit is voor de volgende post …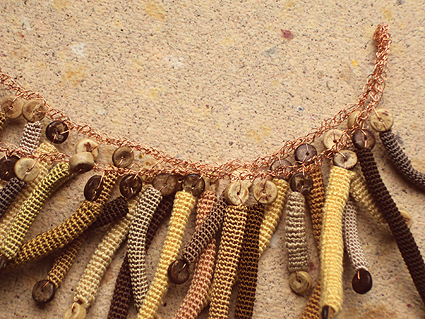 When I had this exposition in Halle on November 15h, I wanted to give a first preview of my African Diva's collection. So, I felt the urge to finish at last that necklace in yellow/brown shades. So, some of you have seen it already in real life.

What I wrote before on this necklace in previous blogposts, you can read here and here.
On the pictures you can see how I attached coconutbeads on the crocheted tubes with fine copperwire.
Afterwards I crocheted them together to a double stranded necklace.
Pictures of  the necklace as a whole and the clasp will be for my next blogpost.