(English text below)
Achter de schermen van deze blog, ben ik alweer volop bezig met mijn African Diva's collectie. De voorbije weken ben ik volledig gegaan voor de voorbereiding van de beurs in Leuven en de tentoonstelling in Halle over twee weken.
Het kriebelt heel erg. De volgende maanden wil ik nog eens wat 'artistieker' bezig zijn. Hop naar een grootser project dus. Trouwens, deze week is op dat vlak het voorwoord geschreven van een mooi liefdesverhaal  … maar daarover later meer 😉
Alles wat nog niet gefotografeerd was, heb ik twee weken geleden aan het kunstig oog van onze zoon toevertrouwd. En ik ben geweldig gelukkig met wat hij uit zijn fototoestel heeft getoverd. De volgende berichten op deze blog, zullen dus vooral fotowerk zijn.
Hier is het eerste van een reeks asymmetrische snoeren: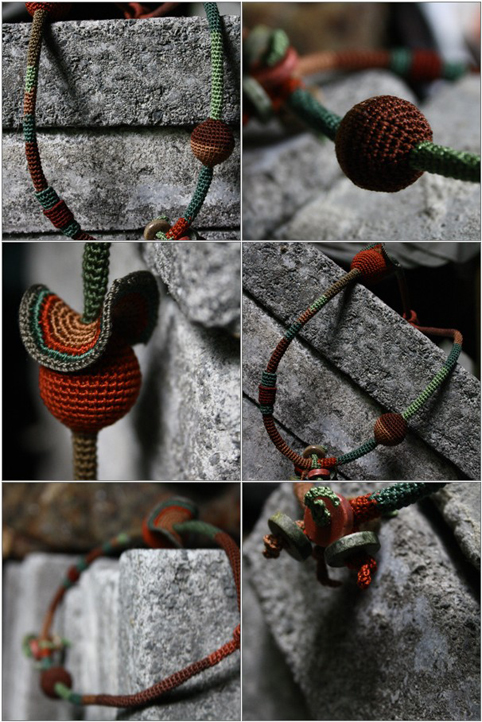 De keramieken kralen, zijn die welke ik kocht op een markt in Bretagne. 't Is altijd genieten om te snuffelen in her en der aangekochte materialen.. vakantiegevoel komt er een beetje van terug.
Je kan bovenstaande foto's in full size bekijken op de fotopagina van mijn website, vanaf hier.
A few weeks ago, I gave some of my recent asymmetrical necklaces to my son, in order to make pictures of them. He gets extra pocket money for this job.
From here onwards, you can watch the above pictures in full size.
In my workplace I'm busy with my African Diva's collection, these are really time consuming designs … so there is not something to show or to tell every day. Perfect time to show you pictures of what I did the previous weeks.