(English text below)
Ik ben klaar voor een weekendje Leuven! Hele namiddag bezig geweest met alles uit te zoeken voor de Stiel en Stijl-beurs.
Ik heb drie hoopjes gemaakt: eentje met inpakmateriaal, eentje met spullen om de tentoonstellingstafel in te richten en eentje met mijn juwelen. Nu moet ik dat nog allemaal in een caddy en een reistas krijgen… want ik ben aangewezen op de trein om naar Leuven te reizen.
'k Mag niet vergeten ook nog een haakwerkje  bijeen te zoeken … voor op de trein! En voor eventuele rustige momenten op de beurs. Bezoekers zien trouwens graag met wat voor materiaal ik werk en hoe fijn mijn haaknaald is.
Een voorsmaakje? (wat meteen ook illustreert dat ik er echt zin in heb!).
Nog een flink aantal oorbelletjes gemaakt, naast de staafjes zijn er ook een nieuwe reeks met gehaakte bollen. Ik heb ze gewoon verzameld in een kokosschaaltje … ben nu al curieus hoe de bamboedisplay er zal uitzien, zo vol oorbellen. Voor de fun heb ik dat schaaltje oorbellen eens gewogen: bijna 200 gr ;-).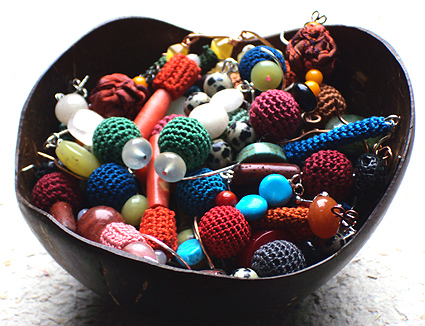 De setjes ring/paar oorbellen zijn ook klaar om cadeau te geven. Het gekleurde handgeschept papier dat ik vastmaakte op het golfkarton is van De Vuurkorf.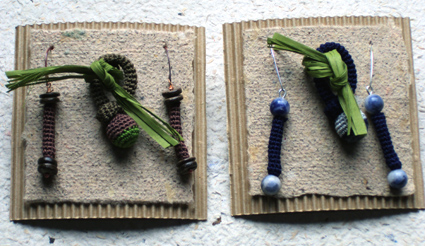 En ook de verpakking is voorbereid: een mandje papieren bloemen (uit de Wereldwinkel) met raffia en een splitpen, klaar om een zakje te sluiten.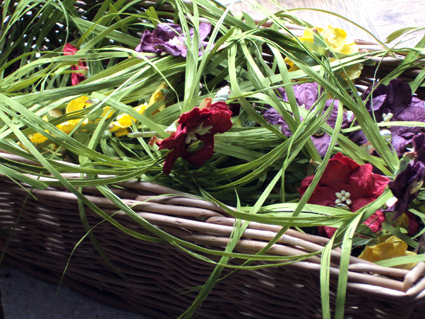 Tot in Leuven!!!! Ik ben er de hele tijd van de openingsuren.
Ik geef nog even de website van Stiel en Stijl voor alle info, klik hier.
En voor wie nog zou twijfelen … Er is ook het nieuwe Leuvense museum M dat kan bezocht worden. En hier kan je lezen welke leuke winkels ik bezocht toen ik vorig jaar in Leuven was.
I'm ready to pass this weekend in Leuven for the craft fair.
The above pictures should illustrate my enthusiasm to attend this fair.
I made extra earrings. just for the fun I weighed this cocodisplay: almost 200grs of earrings!
On the pictures you can also see how I present the ring/earring sets. And how I will close the bags: with a paper flower and some raffia ribbon.
Hope to see you there!