(English text below)
Ik heb nog wel wat Portugees materiaal om een blogbericht te vullen, maar met het oog op de beurs 'Stiel en Stijl' van volgend weekend, staat mijn kopke naar andere dingen… later dus.
Op een beurs is de ruimte om je spullen tot hun recht te laten komen, altijd beperkt. En als ik mijn snoeren op een hoopje leg, lijkt het nergens op. 'k Ben dus op zoek gegaan naar juwelenhouders die ik mooi vind. En heb toch wat gevonden dat me beviel…
Het pak was geleverd toen ik van Lissabon terugkwam. En ja, zo gek zijn bloggers, ze kunnen zich inhouden om het pak open te doen tot de volgende ochtend, als er voldoende daglicht is voor een foto 😉 , want dat is leuk voor de blog. Zo te zien, heeft de douane zich weer geamuseerd: de plakkers hangen 'netjes' over de mooie postzegels.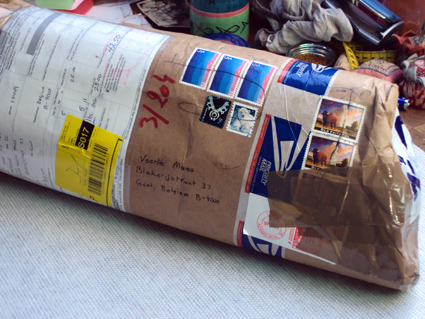 En zo zien mijn bamboe standaards eruit: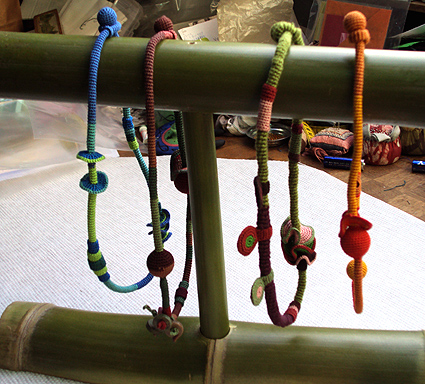 Mét een reeks nieuwe oorbellen: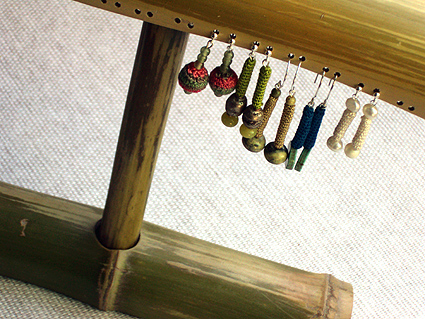 Om een beursstand tot leven te laten komen, probeer ik ook wat in de hoogte te werken. Tijdens mijn speurtocht o.a. dit gevonden: een oude textielstempel op een sokkel.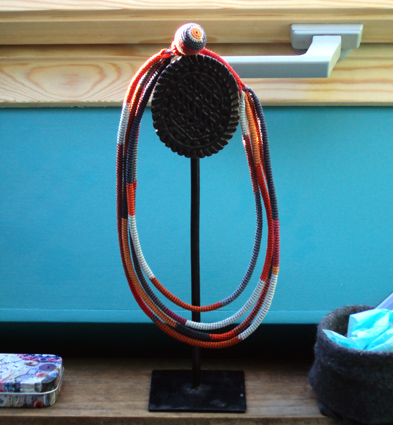 Er hangt één van mijn nieuwe snoeren op.
Voor wie graag meer ideeën opdoet voor het presenteren van juwelen: Fleurfatale heeft er twee blogberichten aan gewijd. Je kan ze hier en hier nalezen.
Ik moet ook nog dringend foto's maken van de nieuwe snoeren van de voorbije weken … maar 't is weer een lastig seizoen voor foto's, er is nog nauwelijks daglicht als ik van mijn werk thuiskom. Misschien zoonlief nog eens aan het werk zetten?
I still have some Portuguese inspiration left for blogposts. But with the fair coming on next weekend, I 'm busy with other things.
On a craftfair, space always seems too small to give every piece the attention it needs. So I thought of buying jewellery displays where I can put a lot of necklaces together in a nice way. And keep the rest of my table simple with only a few pieces.
I bought these bamboo displays. I'm so happy with them, can't wait to see how they look with all my stuff on it.
I also try to give some volume in my booth. Look what I found. An old textile stamp on a standard. There is one of my new necklaces on it.
If you're interested in jewellery displays, please check Fleurfatale's blog. She devoted two posts to this subject. Yoy can read them here and here.
Urgently need to make pictures of my new necklaces and earrings … Oh, it's so difficult now daylight is gone when I com back from work. Think I will ask my son to do the job …