(English text below)
Saudade, het onbestemde gevoel van de Portugezen. Ik kan er mij vandaag iets bij voorstellen: een temperatuurverschil van ongeveer 15 graden, geen blauw in de lucht, geen vis en geen Portugese wijn meer, werken ipv genieten op terrasjes, …
Ik leg dan maar een CD van Mariza (te beluisteren via haar website!) op … schitterende Fado-zangeres die ik al eens live aan het werk zag op het Bijlokefestival in Gent.
En op zo'n moment het resultaat van de shoppingtochten uitpakken, wil ook al eens wat helpen. In deze eerste blogpost over mijn trip naar Lissabon, toon ik dus wat aankopen …
Ik had op voorhand de blogs van Portugese ontwerpers uitgeplozen op zoek naar leuke winkeltjes. Eentje heb ik toch bezocht: 'Rosa 78' in de wijk Bairro Alto. Het winkeltje heeft enkel werk van Portugese ontwerpers in huis. O.a. van Mariela Dias, viltkunstenares wiens werk ik al een hele poos volg via haar blog (zie hiernaast rechts onder de rubriek 'textile princesses'). Doordat er zodanig veel in de winkel was gestouwd, kwam niet alles echt tot z'n recht. Maar ik heb nu wel een echte Mariela Dias: het gsm-zakje op de foto.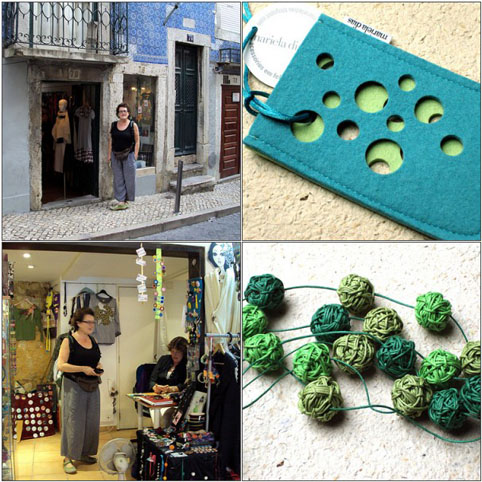 Verder heb ik me ook laten verleiden door het groene snoer op de foto. Heel leuk: stevige kralen gemaakt van wax-touw. Het ontwerp is van Fio-me (ik heb verder geen gegevens over deze dame, maar ik informeer nog eens bij de mevrouw van de winkel .. je hoort er nog van).
Niet op voorhand opgezocht, maar per toeval gevonden in de wijk Alfama (de oude Moorse wijk van Lissabon, met héééééél veel op- en aftrapjes!) : een winkel vol -vooral glazen – kralen, uitgebaat door een Braziliaanse dame. De foto's zeggen genoeg… gelukkig ben ik niet echt een kralen-verslaafde… ik kocht enkel de keramieken kralen op de foto.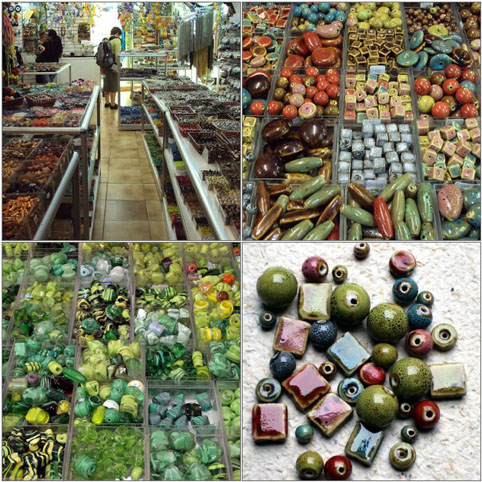 De volgende dagen/weken volgt er nog wel wat fotomateriaal over Lissabon … en over een groot pak dat thuis lag te wachten bij mijn terugkeer … en over de asymmetrische snoeren die inmiddels zijn afgewerkt en meegaan naar Leuven…. (Gezellig!) drrruuuukkkk 😉
Saudade, that typical Portuguese feeling of nostalgia.
That's how I feel now … no more blue skies, minus 15 degrees C, no more vino branco, … Listening to the beautiful fado-singer Mariza and unpacking what I bought in Lisbon, helps a bit …
Before leaving for Lisbon I checked some Portuguese blogs for addresses of nice designer shops. On the first mosaic you see the shop 'Rosa 78' (Bairro Alto). And now I have a real Mariela Dias, a Portuguese felt designer I've been following quite some time (cf her blog right of this blogpost). The green necklace on the picture is of Fio-me.
On the second mosaic you see a gorgeous bead shop in the Alfama quarter of Lisbon. Lots of glass beads. I bought some very beautiful ceramic beads.
I'll be back with more pictures of Lisbon… but there's a lot to do the following days (a.o. a craftfair in 10 days ..) and I have to regain work as from tomorrow ;-(